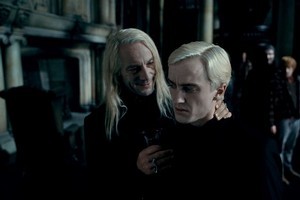 Tom Felton has been synonymous with the quintessential school bully, Draco Malfoy, for nearly half his life.
His own experience on the school playground wasn't as traumatic as those he's taunted onscreen, however, he's familiar with the subject, having been on the receiving end.
"The word 'bullying' is a broad one these days, but I was certainly teased and made fun of at school. I mean, I had bleached blond hair," he laughs.
"But when it came to bullying, I gave it back as good as I got it, that's for sure."
Unlike some of the other cast, his education was not restricted to the studio environment with on-set tutors; he was able to attend regular school as well.
"Spending time away from people your own age is not always the healthiest thing to do, so I felt grateful that I was able to go back and forth to a normal school situation," he says.
"I think I had the best of both worlds."
Felton says portraying such a vivid character as Draco has proved a difficulty when being cast in other roles. Felton made such an impression as Malfoy that he won the MTV Award as Best Villain for two consecutive years: 2010 and 2011.
"There are pros and cons, of course, to being in something as high-profile as Harry Potter, but I'm trying to make it work it to my advantage. On the other hand, going up for parts, a lot of people had to be convinced that I'm not like Draco in real life. They expected me to walk in as a 16-year-old with a certain attitude and blond hair."
He takes on another unsympathetic role in Rise of the Planet of the Apes, as Dodger, who mistreats the animals in his father's ape facility. He says, "Dodger takes pleasure in their misery. He's a really bad guy, so much so that he makes Draco look soft."
Other actors might worry about being stereotyped in this manner.
"I'm not afraid of it. I'm hoping for it, to be honest with you," he laughs. "I embrace it. If I can have half the career that Ralph Fiennes or Alan Rickman has made out of being a British villain, then I will be very happy for sure.
Bidding farewell to the character he's inhabited since the age of 13, he says, "I feel that I've grown up with Draco, and he's grown up with me. It's strange. Those studios we spent so much time in were a second home for me. It's been quite sad not going back there," he says.
"I feel a void much in the way one might feel about graduating from a very long university term. You don't really know what's going to happen in the future, so it's nerve-wracking, and slightly terrifying, but now that I'm already working, and have stepped straight on to another movie set, it's inspired me. I know there's life after Potter."
*Need more Harry? Check out our special section celebrating 10 years of Harry Potter films, including stories, trailers and reviews here.
- TimeOut