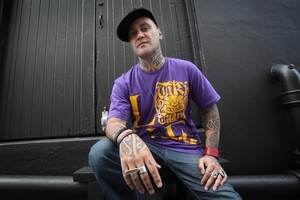 Tiki Taane (pictured) may be facing a charge of disorderly behaviour but the musician is also in the running to win the Apra Children's Song of the Year for Starship Lullaby.
The sweet and tender song, inspired by his young son Charlie, is in stark contrast to his rendition of NWA's rap anthem F*** Tha Police at a Tauranga nightclub in April, which led to police arresting him and pressing charges. Taane has pleaded not guilty to the charge of disorderly behaviour likely to cause violence.
All proceeds from the download sales of Starship Lullaby, which was released last year, were donated to Starship Children's Hospital.
The two other finalists are John Phillips for Road Trip and Rob Wigley for the Mr Roberelli song, Beans About Beans.
Starship Lullaby is also up for video of the year alongside Craig Smith's Wonky Donkey and Fatcat & Fishface's Nightclub. The winners will be announced at StarFest in Christchurch on July 28.
Meanwhile, the top 20 songs for the Apra Silver Scroll, the country's premier songwriting award, have been announced and include chart-topping single Love Love Love by Avalanche City, through to more obscure gems like Blanket by Annabel Alpers (aka Bachelorette) and Bright Idea by Auckland singer-songwriter Andrew Keoghan.
Other notable songs include The Adults' stomping Nothing To Lose with Ladi6, Liam Finn's Cold Feet and former Goodshirt band member Gareth Thomas for Google Song.
The list of songs will be cut back to the top 5 on August 1 with the winner announced at a ceremony at the Auckland Town Hall on September 13. The inductees into the New Zealand Music Hall of Fame will be announced two weeks before the ceremony.
For the full list of top 20 songs and more information, click here.
-TimeOut