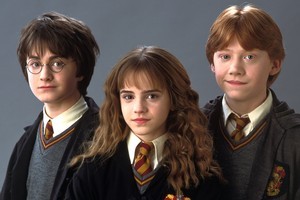 It's the end of the line for the Hogwarts Express and the beginning of a new chapter for Daniel Radcliffe, Emma Watson and Rupert Grint, the stars of Harry Potter.
After 10 years, eight movies and most of their childhood portraying Harry Potter, Hermione Granger and Ron Weasley, the three stars of J.K. Rowling's book-to-film franchise - Daniel Radcliffe, Emma Watson and Rupert Grint - are finally fleeing Hogwarts, for a life free of witches, wizards, goblins and ghouls. But, as they hang up their cloaks, stash their wands and tidy away their brooms for the last time, the enormity of their transformation from wizard legends to mere muggles is slowly sinking in.
"Harry Potter has been a huge part of my life, so it's going to be hard to just walk away and not have it there anymore," concedes Grint, looking as shell-shocked in person, as he does in the films, at the prospect of life post-Potter. "In the past few weeks, it's finally hit me that it really is over and that the last 10 years have all boiled down to this two hour, 10 minute film. Before that, I think I was in denial, but now it's weird, it's a real mix of emotions.
"I actually got quite choked-up the other day, watching the scene where the three of us are standing on the bridge, after the battle, and you can see Hogwarts in the background, destroyed," he admits, emotionally. "That scene is kind of a weird parallel with our lives, at the moment, and it really did hit home that 'this is the end'.
"You know, on the last day, all three of us cried," reveals Grint, looking embarrassed. "I wasn't expecting that, but it was a big moment - a huge adjustment - to suddenly go from doing this every day, for the last 10 years, to suddenly not doing it at all."
"It feels bittersweet for me too," acknowledges Radcliffe. "There's a part of me that's excited to be moving on and doing different things but there's also a part of me that's scared because, in the past, I've always had Potter to come back to. It's also sad that there are some people, who I love dearly, that I won't get to see every day anymore."
"I will definitely miss it," adds Watson. "It will leave a big hole because it's been a huge part of our lives. When we first started out we were so young - just 9 or 10 - so we literally have grown-up, ourselves, with Harry Potter. But it will also be a relief to leave it behind, because I want to be normal for a bit, act my own age and face some new challenges."
That's the (hor)crux of the matter, with Radcliffe, Watson and Grint desperately trying to shake off the typecasting shackles of Harry Potter, to discover a life and livelihood free of their alter-egos.
"I think a certain proportion of people will always see me as Harry Potter and that's fair enough," Radcliffe surmises. "It just means I have to work twice as hard as most actors my age, to try to separate myself from this character and create a more varied and interesting body of work over the next few years. But that's actually an incentive to prove to everyone that I can do that and succeed at acting, in different roles."
His determination to push boundaries and challenge people's perceptions explains his decision to appear nude in Peter Shaffer's risque play, Equus, and also take the lead role in the thriller, The Women in Black. Now he's dazzling Broadway with his performance in How to Succeed in Business Without Really Trying, which has earned him standing ovations and rave reviews, suggesting he won't forever be typecast as the boy wonder wizard.
Similarly, for Watson, her future seems equally assured with roles in My Week with Marilyn - a biopic of Marilyn Monroe - and The Perks of Being a Wallflower, a low-budget, arty film. She's also landed lucrative modelling contracts with Burberry and Lancome, capitalising on her fame and emergent beauty, while proving there's a more altruistic side to her by designing the Spring 2010 collection, for free, for the ethical clothing label, People Tree.
Conversely, Grint's forays outside of Harry Potter have included the forgettable Thunderpants, the slightly more memorable Driving Lessons, straight-to-video flop, Cherrybomb, and misfiring assassin spoof, Wild Target. His only post-Potter film is Comrade, a Norwegian-based, small-budget anti-war film, and it's evident that the dearth - and quality - of the roles being offered to him are worrying.
"Being in the Harry Potter films has made me realise that I really love acting and that I want to keep doing it. But I do worry that maybe this is it," he admits, only half-jokingly. "I truly hope that's not the case, but I suppose the challenge for me is moving away from this character and people's perception of me as 'just that ginger kid' from Harry Potter."
Grint's self-doubts reflect his realisation that being a part of the most successful movie franchise in history comes at a price, and that trying to break the spell Potter has cast over him and his co-stars is going to be difficult.
"Yeah, I don't think I'll ever be a part of something as big or important as this again," he shrugs. "That's something I just have to accept, because I think these films - and experiences - are always going to be the ones I compare everything else with.
"I don't think you can top this and I think you'd be foolish to even attempts to," Watson adds, matter-of-factly.
"It's been an incredible experience, which has changed us forever - both personally and professionally. I've grown-up doing these films and changed from a girl, who knew nothing about acting, into a woman and, I think, an actress because I've been schooled in this great film academy, by all the best British actors, as I went through these films."
Whatever their future, for now Radcliffe, Watson and Grint can revel in the reality that the fantasy of Harry Potter has not only transformed their lives, but transfixed millions of fans around the world.
*Need more Harry? Check out our special section celebrating 10 years of Harry Potter films, including stories, trailers and reviews here.
- TimeOut