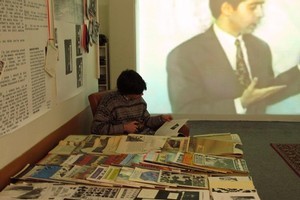 It's Zinefest time, yet my windowsill already overfloweth with little booklets. Teef is made up of fuzzy black and white photographs of people brushing their teeth. Four Crushes, full of heartfelt handwritten descriptions of the writer's semi-acquaintances, includes the quintessential cry of our fragmented age: "How do people find each other anyway?"
Another zine is simply a bound collection of stamped library cards for sheet music. The Princess and the Wilds features drawings of "Mummy pregnant with me", "crowns" and "pregnant ants" by Esther, 3. Others display drawings of police mugshots of celebrities, love letters to the photocopier and ink stamps on bus tickets.
Whimsical, witty and above all, self-knowing, zines are self-published objects. They usually have a DIY cut-and-paste aesthetic like Chris Knox's music turned into matter (zine history includes 1960s sci fi, 1970s punk and 1990s riot grrrl movements, depending on who you talk to).
Zines have been described as "blogs on paper" but due to the love lavished on their non-virtual reality - hand-sewn spines, hand-coloured copies - I think of them more as handicrafts.
"I like to hold a zine in my hands and see that [the artist] held it in their hands," agrees Erin Fae, ofAlphabet City, a zine library andall-welcome zine-making space starting in Auckland's Eden Tceat the end of the month.
So next Saturday's Zinefest market is like an ink-and-paper Kraftbomb or Crafternoon Tea. The aim is not to make money but to share ideas, passions, jokes and pictures - zines are often sold for a price that hardly covers the cost of making them. Swapping a zine for a zine is the only way some people will collect them. They're a non-materialistic celebration of materiality. Fae makes hundreds of copies of her zines: "I would throw them at people as I stepped off buses."
Unlike magazines, zines don't always come in series; one-offs are common. The dominant ethos is: we make our own media so we can say and draw what we like. The personal is acknowledged as political in autobiographical "perzines" although this genre isn't as common in reticent Aotearoa as it is elsewhere.
(But Auckland has its own perzine novel, The Constant Losers by Alex Wild. Main character Frankie writes zines and DJs under the inspired name of "Frankie Goes to Hollywood Bakery". The novel is a well-observed take on smart/clueless slackerdom.)
Unsurprisingly, "people feel connected to people they've never met because of these personal objects", says Fae, a New Yorker. She met her girlfriend and fellow Alphabet City instigator Moira Clunie, a New Zealander, via zines and the internet (you can read their story in a perzine by Fae: Imaginary Windows, No 5).
Zines now have institutional respectability; universities in the US collect them, as does Wellington's public library. Excitingly, Auckland Central Library is getting a collection this year.
But for the moment, we have the Zinefest to enjoy. Today's events include an exhibition on music and zines at the Audio Foundation beside Myers Park and a 24-hour zine-making challenge at Tangleball in Newton. Fun for all the family.
Online:

aucklandzinefest.org