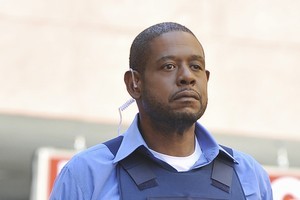 Unlike many young boys, Forest Whitaker didn't want to be a policeman when he grew up. But he says he did want to be a behavioural analyst.
"I remember being at kindergarten, I told my class. They said, 'what do you want to be?' I said, 'I want to be an ethologist.' Everybody's like, 'What?' And I was like, 'animal behaviourist'."
So it's no wonder the Oscar-winning actor was taken by his newest character, Sam "Cooper", head of a Behavioural Analysis Unit (BAU) contracted to the FBI on a spinoff of Criminal Minds, the procedural crime show that has been running for six years. Cooper leads a team charged with tracking the criminals who escape the clutches of profilers on the other show, and has a shadowy background Whitaker says he has enjoyed exploring. He was originally at a seminary, and was brought to the BAU unit of the FBI by the bishops, because of his ability to sympathise with society's rejects.
"My character is trying to uncover light," Whitaker says. "He feels every person has inside of him a light, and he's stripping away all the things that cover it in shadows so he can get to the source.
And from that discovery he hopefully can find a common ground."
Research for this role involved travelling to Quantico, Virginia, where the show is set, and talking to behavioural analysts who work with everyone from serial murderers to child abductors. He also ran through a few fight classes.
"I went with the hostage rescue teams on manoeuvres. I went to work with them when they work with the dogs. I went to Hogan's Alley where they did simulations, where they stopped cars and had shoot-outs there. I met with our best behavioural analysts."
He also worked on his gun-handling skills and martial arts in order to pull off his own stunts.
"There's an episode where I'm full-contact sparring, stick fighting, you know. That was pretty cool. The other guys were fighting a little bit. There was a fight scene where I caught an unsub (unknown suspect of an investigation) and I fought with him. But it was pretty intense, and I think they got nervous that the female audience wouldn't like my character being that aggressive or that physical. So I don't know how much I'm going to be doing."
Like Criminal Minds, the show is going to involve unravelling gruesome and chilling cases, but Whitaker says it's probably a little more international than the original.
This is Whitaker's first time fronting a series; his screen career has mainly been in movies, including Platoon, Bird, The Crying Game, and The Last King of Scotland for which he won an Oscar for his portrayal of Ugandan dictator Idi Amin. His television credits include stints on The Shield and ER.
"I had thought about TV, but [Suspect Behaviour] came at the right time. I wanted to stay home for a while. I was offered a couple of series at the same time. I chose to do this one. I was interested in exploring the human mind and the human psyche."
LOWDOWN
Who: Forest Whitaker.
What: Plays Sam Cooper in a new spin-off of Criminal Minds, called Criminal Minds: Suspect Behaviour.
When and where: Monday, 8.30pm on TV One.
- TimeOut, Additional reporting AP