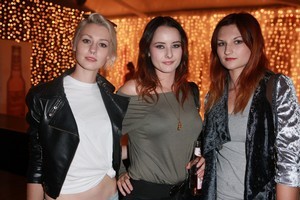 Dane Rumble is one of three new acts announced for EDGEtravaganza at Hamilton's new Claudelands Arena on July 16. The chart-topping pop star and newest member of the First XV of ambassadors for the World Cup will be joined by rock chicks Ivy Lies (pictured) and party hard DJ Justin Sane for the concert that also features Midnight Youth, Stan Walker, Kids of 88 and Australian bands Thirsty Merc and The Potbelleez.
Meanwhile, Mt Eden (formerly Mt Eden Dubstep) and bass warrior Bulletproof, two of the biggest names in dubstep and drum 'n' bass, team up for a tour starting in Hamilton at Altitude on August 4, which includes a show at Auckland's Backstage in Galatos St on August 26. Tickets and nationwide tour dates at ticketmaster.co.nz.
Lastly, there are strong rumours of acts playing Australia's metal-hard rock festival Soundwave Revolution in September stopping in for New Zealand shows.
We can't name names but an 80s goth band is on the cards, and the guy who makes Marilyn Manson look like a kitten wearing makeup could also be returning (he was last here in 2009).
- TimeOut