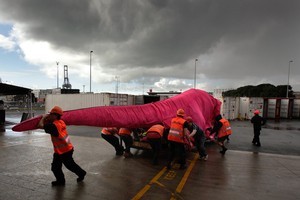 What is large, slow-moving and draped in a hot pink protective cover?
Yes, the dinosaurs have arrived at Auckland's Vector Arena.
Their ancestors may be extinct, but the hi-tech stars of the spectacle Walking With Dinosaurs looked and sounded very lifelike as they emerged from their shipping containers.

It is the first show of its kind in New Zealand, a $20 million arena spectacle with 15 life-size dinosaurs. The audience can observe how they lived, how they fought for survival and finally witness their extinction.
A team of three people operates one dinosaur: one driver and two "voodoo puppeteers". The driver controls are in the chassis underneath the body, controlling the head and tail.
The voodoo puppeteers control smaller movements wirelessly from a rig and keyboard in the control room. They are in charge of mouth movements, blinking, roars and other sound effects.
The smaller "skin dinosaurs" are operated by one person who fits inside the suit, which weighs 38kg.
Overseeing it all is resident director Alli Coyne, who makes sure the standards are high.

In the two years she has been with the show, it has performed in 30 countries and 60 cities.
"We're very reliant on technology. After the final show it takes four to five hours to get it all packed away. It will take longer this time as they'll be going away for a very, very long time.
"They'll be extinct again after Auckland, for about a year," she says.
Mikey Hamilton, head of creatures, has been with the show for 4 years. He oversees the dinosaurs' entry into the building.
"I originally started as a dinosaur driver, and funnily enough my favourite is torosaurus. He's the one who gets beaten up during show, and I can't help but love him."
* Walking With Dinosaurs runs in Auckland until Sunday, July 10.