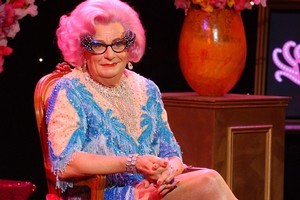 It's goodbye possums and hello hobbits as director Sir Peter Jackson has announced that Australia's Barry Humphries will have a role in his Hobbit movies.
Humphries, 77, more famous for his cross-dressing character Dame Edna Everage and drunken Australian "cultural attache" Sir Les Patterson, will play the Goblin King, Sir Peter announced on his Facebook page this morning.
"In his spare time, Barry is also a fine actor, and we're looking forward to seeing him invest the Goblin King with the delicate sensitivity and emotional depth this character deserves."
The other casting announcement was that Canadian actress Evangeline Lilly, best known for her role in television's Lost, will play a character not in the original story, the woodland elf, Tauriel.
"Her name means 'daughter of Mirkwood' and, beyond that, we must leave you guessing," Sir Peter said.
He said there was no romantic connection to Legolas.
Welsh actor Luke Evans has been cast as Bard and Benedict Cumberbatch - currently on television screens in Sherlock - as Smaug the dragon.
-NZPA