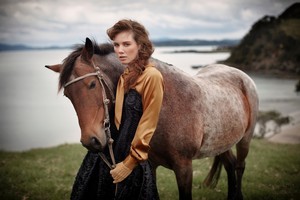 New Zealand's Next Top Model opened its third season as one of the top-rating TV shows last week.
The first episode on Friday attracted a 27.5 per cent share in the 18-49 age group, up 10 per cent on last year's first episode.
Because Mediaworks reshuffled its channels when it introduced Four earlier this year, Top Model's target demographic is now viewers aged 25-54, and it won a 24.2 per cent share among this group, which was also an improvement on last year's result.
Unsurprisingly, the show remains most popular with those of a similar age to the contestants, or the 15-29 age bracket, where it pulled a 32.5 per cent audience share.
The show, and its "plus-sized" contestant Aroha were popular on Twitter over the weekend.
MediaWorks director of programming Kelly Martin says she is delighted with the series' launch. "The response to episode one has been fantastic, both in terms of ratings and the wider audience.
This year's contestants have instantly caught the viewers' imaginations, and it's great to see Sara, Chris and Colin welcomed back to the small screen with such enthusiasm."
-TimeOut