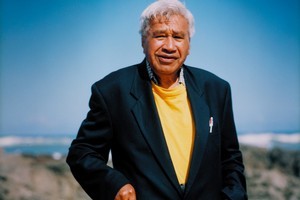 Some of New Zealand's top musicians, artists and poets are getting together to pay tribute to the legacy of poet Hone Tuwhare - and to raise money to turn his old "crib" into a writer's residence.
Tuwhare, who died in January 2008, was one of the country's best-loved and successful poets.
Koha For the Crib, at the Classic in Auckland on July 7, will feature semi-acoustic performances from the Chills' Martin Phillips, David Kilgour, Herbs, Whirimako Black, Graham Brazier and Lawrence Arabia, among many others.
Poets Sam Hunt, Glenn Colquhoun, Tracey Tawhiao and TV3's resident poet John Campbell will do their own pieces as well as some of Tuwhare's work, and a number of artists have also donated pieces to be auctioned.
The show also celebrates the launch of the Hone Tuwhare Charitable Trust, which is working to purchase and restore Tuwhare's crib at Kaka Pt in the Catlins area at the bottom of the South Island.
Tickets $60 (includes refreshments) on sale at ticketek.co.nz.
- TimeOut