Eoin Colfer's Artemis Fowl series gained massive success in the shadow of Harry Potter. Expansion into the tricky adult fiction market is the next mission, writes Susie Mesure.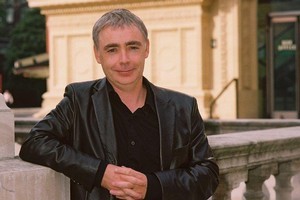 What with global book sales in the tens of millions, headline festival appearances, hotly tipped comedy gigs, a musical and potentially two Hollywood blockbusters to his name, I'm expecting something pretty special from the Irish writer Eoin Colfer. Not least a national gift of the gab that means I can just flick the switch on my dictaphone and sit back while the anecdotes flow.
But if the eponymous protagonist of his hit Artemis Fowl series is the consummate anti-hero, then his creator must be the ultimate anti-star. Softly spoken, down-to-earth and unassuming, Colfer momentarily freezes like a rabbit in the headlights on meeting me.
To be fair, the brilliant spring sunshine flooding into his publisher's Thames-side offices probably had something to do with it, but there's no denying the author is not one to throw his weight around. His anecdotes need prising out, but that's probably for the best.
Despite selling more than 20 million copies of Artemis Fowl and counting, not to mention penning the Hitchhikers' Guide to the Galaxy sequel And Another Thing ... , the modest writer claims: "I still think every time I send in a new book that it won't get accepted."
And earlier, while I take a punt on which of the two flasks on the table yields coffee, Colfer confesses that just the previous day his attempt to make a cup of rooibos tea went awry after he poured black coffee into his cup instead of hot water - yet he drank the resulting concoction rather than make a fuss.
"It gave me a kick and calmed me down at the same time," he quipped in a flash of the humour that peppers his novels and explains his unexpected transformation into a stand-up comedian.
Colfer thinks growing up as one of five boys helped to unlock his inner comic - certainly it provided plenty of source material - but an uncanny gift of good timing also played a part. I'm talking about the sort of good timing that saw him publish his first Artemis Fowl book, 10 years ago, just as the Harry Potter phenomenon was peaking. Readers, writers, publishers, and agents were all equally desperate to find the next boy wizard and Artemis - a diabolically gifted 12-year-old boy who uses fairy magic in his attempt to rule the world - seemed to fit the bill.
"There was a time there, for the first two books at least, that every book," his Irish burr stressing the "every", "that came out was the next Harry Potter. It didn't matter what it was about, there'd be some connection."
Despite being a voracious reader, Colfer, 45, was a Potter virgin when he wrote the first Artemis novel - six more have since followed. (Indeed, Colfer, whose first fantasy book, The Wish List, predated the mighty Potter, jokes that HP still stands for "Hewlett-Packard" in the author's Wexford-based house.)
Which meant a banner newspaper headline asking: "Is Artemis the next Harry Potter?" that caught his eye in Dublin airport set off more than a few alarm bells. "I thought, 'oh Christ, they're similar in some way'. So I went into the same bookstore and bought the first Harry Potter and I read it on the plane. I enjoyed it immensely but I was very relieved that they weren't the same. I mean, there's a 12-year-old boy and magic and that's about it."
He pauses. "But I think what helped me more was that Artemis became the anti-Harry Potter. If J.K. was the Beatles, I was the Rolling Stones or something. That kept it alive because you can only be the next Harry Potter for so many books." This makes Colfer infinitely cooler than Rowling, although he is too modest to point that out explicitly.
He does admit, however, to being lucky. Although his first few children's books had sold moderately well in Ireland, it was only with Artemis that he broke out of his home market. And even then it was only down to his wife, Jackie, and the peer pressure of the combined Colfer clan, forcing him to find an agent. So great was the Potter clamour that Colfer also sold the film rights to the triumvirate of Miramax, Disney and Tribeca Film before the first book had even come out.
That said, he's still waiting for the film to materialise: the script, co-written with the My Left Foot director Jim Sheridan, is ready but the studios are still tussling over the format. He's hopeful, though, to have some news very soon. "Sheridan is in LA as we speak, trying to get it unblocked."
Notwithstanding the battle books face with computer games and the like for kids' eye time, Colfer reckons reading among children is on the rise.
And if any despairing parent doesn't believe him, well, the former teacher has some words of advice. "You have to be very careful about how you try to infiltrate kids' time with books. You want them to come to reading as a gift; something that's as entertaining as playing PlayStation or watching TV, or more so in my opinion. And the way to do that is not to try to compete with these things, because you can't. I think you need to embrace the new technologies that are coming along, the eBooks, and so on, and maybe just try to get a book in for 20 minutes a day. If you say to your kids, 'that's it; no more TV for you; you have to read a book', you are basically dooming literature for that child ... so you have to do it sneakily."
His latest book, Plugged, is his second foray into the adult fiction market. He hopes the story of a New Jersey bouncer who winds up with half a head of hair plugs after his surgeon goes missing will tap the crime noir market, not least because "the crime readership is the biggest readership in the world, so if you can get in there..." he breaks off for a momentary daydream. "I'd love to write a series of books about this guy but I'll have to wait and see."
The book is unusual because it's funny, although Colfer says he originally tried to write it straight. "He was initially very much the implacable hero, in the Lee Marvin type, out for revenge, no messing around. But I couldn't sustain it. It just felt like I was trying to write someone else's book. Then one joke got in, and then another one. Initially the character wasn't the brightest guy, but then I started to leak in a bit of psychology and he became more knowing and aware of his own foibles, so I had to go back and change it all and make it much funnier."
Colfer wouldn't be Colfer if he were already counting his chickens, but given that his Hitchhikers sequel was "universally hated" before it came out but loved once it did, he could well have another hit series on his hands once he writes his eighth, and final, Artemis Fowl book later this year.
Plugged (Headline Fiction $36.99) is out now.
- INDEPENDENT