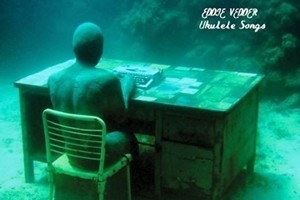 No, not the Pearl Jam frontman doing versions of Even Flow and Better Man on his trusty ukulele. Which is both a good and bad thing because while it would be great to sing along to those songs with a uke backing, often ukulele versions of songs can be a little corny. But corny this new album - Vedder's second solo outing following the 2007 soundtrack for Into the Wild - is not.
It's made up mostly of originals along with a few covers including a seedy and husky version of Dream A Little Dream at the end. While the voice is distinctly Vedder, in all its smouldering rock 'n' roll beauty, he also gets some impressive sounds out of his little instrument(s) that range from fluttery and flighty to discordant and murky.
And apart from the beautiful, book-like packaging of the album, that's the most remarkable thing - how he manages to ring so many different textures out of his ukes. So the 16 tracks move from plaintive and sad on Sleeping By Myself, to slightly rocky on You're True (which is the most like Pearl Jam), and simply lovely on More Than You Know.
It's definitely an album for Pearl Jam fans, of which there are still many, for uke enthusiasts the world over, and also for those who like a good tune. Although be warned, these songs are often dark and dissonant.
Stars: 4.5/5
-TimeOut