The once dark Death Cab for Cutie are now a happier bunch and so is their music, writes Gillian Orr.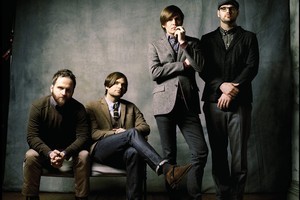 Half an hour or so into a Death Cab for Cutie concert in Toronto recently, between old track What Sarah Says, which features the line, "love is watching someone die, so who's going to watch you die?" and their most-loved hit, the solemnly titled I Will Follow You Into the Dark, frontman Ben Gibbard cheerily greets the enthusiastic crowd. "This is fun, right?" But Gibbard is not trying to be clever, he is having fun. For when the Washington quartet perform, they, curiously, inspire joyous crowd sing-alongs and dancing that often belies much of the music's terribly depressing subject matter.
With its lugubrious lyrics and stark observations, their last album, 2008's Narrow Stairs, was the band's bleakest release to date. It was also their most successful, debuting at number one on the US Billboard Chart. But now they are back with their seventh record, Codes and Keys, which was released last week, and it is a more upbeat and well-balanced affair.
Backstage before the show Gibbard and the band's guitarist/producer Chris Walla are visibly relieved to be able to leave some of the melancholy behind.
"I feel like virtually anything we do at this point would be brighter than that record," laughs Gibbard. "In the throes of writing Narrow Stairs I kind of allowed it to become the most extremely dark thing that it could be. Up until that record I don't think I could have written a song like You Can Do Better Than Me and been, like, okay with it. But I didn't want to wallow in that place too much more."
Besides, life seems to be treating Gibbard well. Having recently married the actress Zooey Deschanel, he has moved from Seattle to Los Angeles, a city he described as "the belly of the beast" on 2001's The Photo Album. Indeed, a new song, Stay Young, Go Dancing, even includes the line "life is sweet in the belly of the beast".
The other band members have similarly undergone dramatic life-changes. Walla relocated from Portland to Seattle after ending a long relationship; bassist Nick Harmer got married and changed cities twice; and drummer Jason McGerr has had children and moved his family back to the town of Bellingham, where the band grew up.
These developments have certainly informed Codes and Keys, an album preoccupied with the concept of home: the search for it and how to recognise it when you get there. "It wasn't a conscious decision to make a record that dealt with a particular subject," explains Gibbard. "But, as somebody who recently moved from a place that I've lived the vast majority of my life, to a city I never in a million years thought I would end up, it makes you re-evaluate things. I found myself living in a very foreign place, but also feeling for the first time in my life that I had never felt more comfortable, and that was very surprising."
Recorded over several months and in a number of different locations, Codes and Keys also heralds a new sound for the band, with one of Walla's main references being the point where electronic music first interfaced with rock in the late 70s and early 80s. Much more of a sonic experimentation than previous efforts, the straightforward indie-rock guitar sound has been ditched in favour of synths and a string section.
"I was interested in making a harmonic bed for things out of something other than strumming guitars," says Walla. "And that turned out to be kind of a bigger challenge than I thought, but I'm really happy with how it turned out. This record took a step back by layering things piece by piece and trying to build a soundscape from the ground up."
And what of the future? Where does the band want to go from here?
"Some of my favourite bands are bands from the 70s, 80s and 90s, and are still together and putting out records," Gibbard points out. "Like when the Cure put out something, it may not hit me the same way that Disintegration did when I was 13 years old but I'm still excited to go out and get it. And if the Cure's coming through town, I know that they'll play all these songs from this beautiful catalogue of music that they've accrued over the years. At the end of the day, that's what we're trying to provide."
LOWDOWN
Who: Death Cab For Cutie
New album: Codes and Keys, seventh album out now
- The Independent / TimeOut