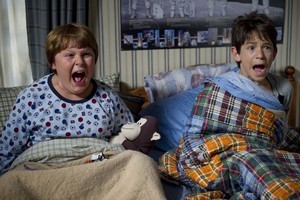 If you missed the first film adaptation of author Jeff Kinney's comic novel for kids, Diary of a Wimpy Kid, don't sweat it. The second instalment is more of the same, easy to get your head around without prior knowledge, and, thankfully, features a much nicer and toned-down lead character.
Possibly the most annoying character on screen in 2010, 11-year-old Greg Heffley (Gordon) was precocious and self-absorbed, and while his merciless mission to be popular in his first year of Middle School was witty and smart, it was also painful to watch.
A year on Greg no longer feels the need to throw his friends under a bus so he can become popular; this time the focus is on improving his family relationships. Greg's wacky parents, played with the appropriate enthusiasm by Steve Zahn and Rachael Harris, decide its time for Greg and his daily tormentor, his older brother Rodrick (Bostick), to bond. In a classic piece of poor parenting they decide the best way to do this is to leave the boys home alone
for a weekend; needless to say chaos ensues.
Greg's best friend and scene-stealer Rowley Jefferson (Robert Capron) is back, along with other familiar faces, and while you can't help but think that this would make a much better TV series than feature film, it's hard to beat for inoffensive, harmless, offbeat fun for the whole family.
Stars: 3/5
Cast: Devon Bostick, Zachary Gordon
Director: David Bowers
Running Time: 99 mins
Rating: PG
Verdict: Here we go again
- TimeOut