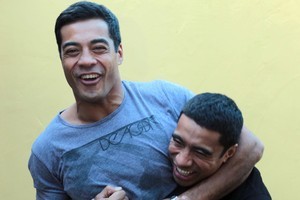 In The Brothers Size, a Silo play now on at Auckland's Herald Theatre, Pua Magasiva plays Oshoosi Size, a wayward young African-American just released from prison. He relies on the kindness of his stern older brother to save him from his own stupidity.
It's the kind of raw powerhouse performance that draws sobs from the darkness and leaves audience members blinking awkwardly under foyer lights on their way out of the theatre. "I used a lot of my experience of being a younger brother in this play," says Pua. "It helped me go to those places."
Pua admits there are strong parallels between the brothers in the play and his relationship with his older brother, fellow actor Robbie Magasiva. Robbie was the one to help him out of trouble growing up and find him work when he needed it. "Every job I've basically had has been through Robbie," says Pua. Not that he needs much help at the moment. Pua, like Robbie, is having a busy year, juggling roles for theatre, film and television.
Robbie is the eldest in the Magasiva family of six siblings. Steve lives in London and works in IT, Miki shares the Magasiva creative spark and is a director whose credits include the Air New Zealand ad starring Richard Simmons, Pua's twin Tanu is a builder in Auckland and sister Trina is in Year 8 at St Mary's College. "Robbie's always been the nice one and the one we trusted the most," says Pua. "When me and my twin had problems Robbie would always be the one who would talk and be lenient and listen."
The brothers are draped over a couch in Robbie's spotless Grey Lynn home. Robbie is a self-confessed neat freak but today he's feeling a bit shabby. It's the day after the wrap party for Sione's 2, the sequel to bro comedy Sione's Wedding. Robbie got home at 3.30am and is still trying to shake a hangover. "It's not as easy as it used to be," moans the 39-year-old.
Filming on Sione's 2 finished this week and the movie will hit cinemas on January 19 next year. Pua, 30, reprises his role as the title character. Robbie plays Sione's hunky, womanising brother Michael. There was a great vibe on set, says Robbie, and writers James Griffin and Oscar Kightley have done a good job of making the sequel fresh, catching up with the characters five years on. "I think this film is a little more mature," he says. "Like the first one, people are going to relate to it because it's a Kiwi story." The brothers are soon going to be reunited on the small screen, too.
In August, Pua steps back onto Shortland Street as class clown nurse Vinnie Kruse alongside Robbie who has appeared as doctor Maxwell Avia for the past 18 months.
Pua left the show in 2006 but insists he went on his own accord, not part of a big cull of actors at the time. "I took a risk and I left. The work didn't come," says Pua, who feels he fell victim to what became known as "the Shortland Street curse". "It's weird that thing," says Robbie. "Back then if you were on Shorty and came off it, you always got typecast as that character so there was a down time."
It was an era of clashing egos, reveals Robbie. "I heard stories of guys and girls who thought they were invincible. I bring in the ratings, blah, blah, blah'." The curse has since lifted, he says, with a constant flow of good quality actors, such as Sara Wiseman and Ian Mune, coming and going. Despite the level of acting talent currently on the Street, Robbie has no illusions that there is high artistry taking place in the accelerated world of television. "You go in there, you do the best as you can and you don't worry about another take. You just move on. It's like a factory."
Shortland Street pays the mortgage but Robbie and Pua have both turned to theatre to hone their craft. "Shorty is fantastic but you are just stuck in the rut, in the rot," says Robbie. "So theatre takes care of that." Pua's raw role in The Brothers Size has pushed him into places he has never been as an actor. "It's opened up who I really am as a performer," he says. "I got shocked but at the same time I'm glad I found myself because I have a much deeper appreciation of the work I'm doing."
Meanwhile, Robbie has set himself the huge task of mastering the lead role in Othello for his first foray into Shakespeare. The play opens at the Maidment Theatre on July 22. He was planning to start learning lines on the day of our interview but the hangover put a stop to that. "Here's hoping it's good," says Robbie with a self-deprecating shrug. He poses theatrically, as if on stage, waiting desperately for Shakespeare's lines to come to him, and the brothers dissolve into giggles. Their matching smile lines crinkle around their eyes.
While Robbie is his little brother's biggest fan, he isn't afraid to tell it like it is. As Pua reminisces about a past role Robbie pipes in with: "That play was terrible. I loved you in it bro - but it was one of those plays. Boring."
It will be a much more chiselled version of Vinnie who turns up on screens in a couple of months. While in the grip of the Shortland Street curse, Pua qualified as a personal trainer and now shows off a sculpted physique to rival his big brother's.
Pua is determined to take his newfound passion for fitness into Pacific Island communities to tackle obesity and diabetes. It will be a big job to change mindsets, but Pua's achievements in the acting world proves he doesn't cower from a challenge. "You're only there to guide them the right way," he says. "At the end of the day, it's you as a person who decides you want to change your life."
-
Pua Magasiva stars in Silo Theatre's production of The Brothers Size at the Herald Theatre until June 18.
Tickets available through The Edge, www.buytickets.co.nz or ph (09) 357 3355
Robbie Magasiva plays Othello in the Peach Theatre Company production of Othello from July 22-August 13 at the Maidment Theatre, Auckland.
Bookings are through the Maidment Theatre: www.maidment.auckland.ac.nz or ph (09) 308 2383