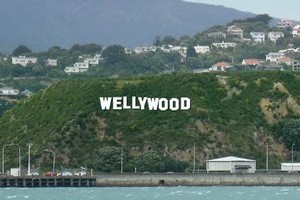 Plans for a giant Wellywood sign set to be anchored to a Wellington hill have not gone down well with thousands of locals.
The 30-metre-long sign will be erected on a Miramar Peninsular hillside near the capital's airport.
The controversial sign, given resource consent by the city council last year, was announced by Wellington International Airport today.
It said it had been chosen ahead of other suggestions to "celebrate and promote" the city's film industry.
When the sign idea was first revealed opposition was vocal, many saying it was tacky. Plans were shelved for a year while the company researched other options for the hillside.
However, "Wellywood" has won out over "enormous statues and even a Mount Rushmore-style rock carving", the announcement said.
It proved the best fit and would be the "new look sported by the hillside," the company said.
Social networking sites have been inundated with opinions about the sign with nearly 2500 people joining a Facebook page entitled Wellingtonians Against the Wellywood Sign; and more than 200 people attending a symbolic event to burn the idea of the sign, labelled Burn the Wellywood Sign on the website.
Twitter has also been swamped with Tweets by people decrying the plan.
Comic Raybon Kan tweeted: "Wellywood sign. Can't we pretend they built it already, but it's been destroyed in a very specific earthquake? Just show the idiots a receipt."
And Green Party MP Gareth Hughes wrote on the website: "Thinking of drafting the Wellington Airport (WELLYWOOD Sign Prohibition to Save Us All the Embarrassment and Ridicule) Members' Bill."
Wellington businessman Jack Yan has also opposed the sign.
"Wellington prides itself on its originality and creativity, and I cannot see how copying someone else expresses either. This is totally contrary to the city's brand," he said.
"The airport's management believes that it can wear down citizens by floating the idea again. From what I have seen, the airport has misjudged all Kiwis once more."
Mr Yan has notified the Hollywood Sign Trust and the licensing body behind the Hollywood Chamber of Commerce, which controls how the original Hollywood sign is used.
"I do not believe parody is a defence in this case, as the plans shown by the Airport indicate that the copying breaches several established areas in intellectual property law," he said.
But airport chief executive Steve Fitzgerald said, "Wellington needs to get onto everyone's bucket list and a Wellywood sign is a clear message that Wellington is a must-see destination with a really important film industry.
"Being niche and understated is cool positioning for a local audience, but to be relevant on the world tourism trail, we need to shout about why we are great."
The company gave no indication of just how soon the sign will be hoisted up the hillside, its colour or how much it would cost.
- NZPA