Jacqueline Smith meets the very large cast and crew of Walking with Dinosaurs.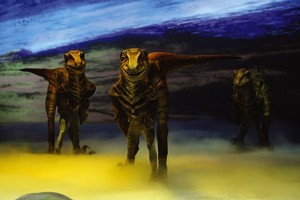 Once again, the arena walls tremble as crowd favourite Tyrannosaurus Rex repels her toddler's predators with a roar, one with megawatts of sub-woofer beneath it.
How do we know that 65 million years ago that when giant reptiles pounded the Earth, they threatened to eat one another's babies?
Well, admits creative director Sonny Tilders, there are some aspects of the live show Walking with Dinosaurs that rely on a little bit of creative licence.
"Fortunately, dinosaurs are well-covered in popular science, so that's the level we are working with. Paleontologists aren't really into big-picture stuff. You take a look at them, they are dusting away at a little finger bone. It's just a bit too narrow for us. We want the big-picture stuff, the sense of wonder," he says.
It was that sense of immense power and scale that entrepreneur Bruce Mactaggart was looking for when he dreamed up the concept for a dinosaur arena tour.
Originally from Australia, Mactaggart now calls Hawkes Bay home and also happens to be the executive director of Auckland's Vector Arena. He says he was trying to come up with a way to use the entire capacity of an arena - height, breadth, lighting and sound - when he decided to breathe life into dinosaurs.
Before he knew it, he was seeking investors for an arena show modelled on the 1999 BBC documentary Walking With Dinosaurs, which he also gained the rights to, and was then touring Australia, Europe and America with one of the heaviest performance crews to ever tour the planet.
Next month, four years, two crews and one guest appearance on CSI later, the show takes its final bow, in Auckland.
Behind the scenes, the people on walkie-talkies do refer to the 15 life-sized dinosaurs they travel with as "crew". The horned, callused torosauruses are "hes" but the big T-rex with the broken teeth and gold-flaked eye is definitely a "she". They are quick to point out the creatures' very different personalities. Mama brachiosaurus is "lovely" while the raptors are "naughty wee things". It is always rather traumatic, after weeks of tending to them backstage to then deflate the creatures and stuff them into containers to move location, the crew say. Fortunately they are allowed to tuck them, as if into bed, with blankets.
American actor Jared van Heel, who dons tights five nights a week to run around in a raptor suit, says he certainly feels a strange anthropomorphic affinity with the dinosaurs he animates - he sings to feisty liliensternus whenever he wears her suit. Yes, the job ranks up there as one of his most unusual, he says. And it makes for some interesting small-talk, particularly when he declares he is a dinosaur on his visa forms.
Having been with the show for about a year now, van Heel estimates he has performed as one of the show's five smaller dinosaurs - liliensternus, baby T-rex or the three utahraptors - about 600 times. It is one of the most physical acting roles he has taken on.
"We are more or less at a full sprint inside the creature, and it is so large that it just looks like it is trotting along. But it takes a lot of stride length and force to make it look like it is moving at a raptorial pace," he says. "My knees feel like they are about 165 million years old."
Inside the raptor, van Heel is also working with a set of buttons that control the dinosaur's blinks, mouth movements and sounds. He can't watch the audience reactions - he can see only a little square of the floor - but he is certainly aware of their emotions.
"I had one performance in Portland, Oregon on the American tour and I was liliensternus. I ran down to eat the baby and right away I heard a little kid start crying, and it was the only time in my life I have actually heard a kid pronounce the word 'wah'. And that got about five or six other kids crying and everyone else in the arena laughing and I was running around, laughing," he says.
While some very young children are simply overwhelmed by the arena experience, the show seems to tap into that awe and curiosity that people of all ages have always had about dinosaurs, he says.
"Every kid goes through their dinosaur phase, and I think I had maybe forgotten about them before I joined the tour. But it's really interesting to get it so thoroughly back in your head that these enormous reptiles were ever walking around this Earth," van Heel says.
Ben Frost, a lead dinosaur puppeteer, or "voodoo" as the WWD team say, is positioned in the stands throughout the show, where he and three others manipulate the larger dinosaurs with an arm that simulates the beast.
"They are just really cool, massive, million-dollar robots. More than that, [they're] puppets that we can bring to life," he marvels.
It is Frost who will lower the baby brachiosaurus' head into the crowd while a camouflaged driver sits below the dinosaur, driving it about the arena in a go-cart fashion. An auxiliary stands next to Frost holding a PlayStation-like joystick that controls the dinosaur's vocals.
Frost has worked as a puppeteer on Muppets-master Jim Henson's company's stage shows and in science fiction feature films. The dinosaurs are his biggest, most complex and most expensive characters but he says whether it's a sock puppet or a million-dollar dinosaur, the principles of bringing an inanimate object to life are the same.
Back at the creative hub, called the Creative Technology Company One, Tilders says one of the positive spin-offs of the stage show has been an influx of jobs for puppetry and animatronic experts who had previously been seeking careers in the growing computer-generated imagery (CGI) industry.
Their West Melbourne warehouse has created two rounds of dinosaurs for the arena tours and has since won a contract to create an theatrical show of How to Tame Your Dragon for Dreamworks as well as a live King Kong theatre production for Broadway.
Tilders explains the feat of physics and engineering that allowed them to make robotic dinosaurs appear organic and lifelike, and also to make them easily transportable. To keep the weight down (to just one or two tonnes) and to create a sense of flexibility and suppleness, Tilders and his team experimented with inflating the dinosaurs, and hand-stitching the skin to muscle bags made of polystyrene balls - a technique modelled on the Star Wars Wookie suits.
Fossilised imprints of dinosaur skin have given paleontologists some idea of dinosaur skin being scaly, and it is thought they would have attempted to camouflage themselves against their surroundings. But, Tilders says, opinions differ vastly even within paleontology communities, so his team stuck to popular belief but made sure it carried out its own paleontological-style research, by observing existing animals - like elephants - and applying the heavy movements to much, much larger creatures.
As for the dinosaurs' sound-effects, Tilders says the production relied on suggestive findings that dinosaurs made noises.
"I suppose if you look at backward evolution, we know now that birds evolved from dinosaurs and you can see how powerful their vocalisation is. They must have developed it in the dinosaur period. Maybe the T-rex actually had a tiny little squawk, but we can assume they developed it somewhere."
He thinks the theatrical arena show has been a breath of fresh air for audiences, particularly children who have grown up with the whizbang possibilities of CGI in computer games and 3D movies.
"I wonder if there's two kinds of reality these days. There's the movie reality where you can create amazing worlds and creatures who are unbound by physics and to an extent, budget, and then there's actual reality. It's kind of nice to see things that are bound by physics.
"Some kids would probably wish that our dinosaurs would run at 60 km/h and smash into one another, but when you actually see the creatures walking on stage, I think they forget that because they look and move like they weigh 80 tonnes and have a grace to them. It reminds you that all these CGI events, from King Kong to Jurassic Park, have pushed physics so far they have lost their gravity and mass."
LOWDOWN
What: Walking With Dinosaurs: The Arena Spectacular
When and where: Vector Arena, from June 29 until July 10
-TimeOut