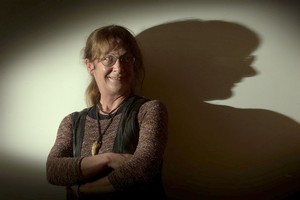 Cilla McQueen, New Zealand's Poet Laureate, has produced a terrific new collection that, like any good radio, offers a range of options for the reader. The Radio Room favours nostalgia, wit, playfulness, observation and bite, and includes some standout poems.
The delightfully funny Soapy water makes a miniature portrait of the consumer world we live in by substituting the word "poetry" in catch phrases. Favourite lines include: "World poetry is running low." "Turn poetry off at the wall to avoid leakage." "Are you sure you are using dry poetry?"
In an earlier landmark poem, McQueen imagined the woolliness of our lives if New Zealanders were sheep. In her sequel Reprise she takes a different approach to living here. A political sting replaces her delicious humour as she examines what we have done to the land we inhabit.
Some poems are tiny on the page but tremble in 1000 ways (In Hand).
Some poems navigate real things to navigate the mysterious (the glorious Umbrella). A number of poems are in conversation with Hone Tuwhare where the mix of tenderness and directness is moving.
As McQueen writes in the splendid Foveaux Express, "Poetry takes you apart, / Puts you back different."
Landfall editor David Eggleton wrote much of his latest collection as writer-in-residence at the Michael King Centre in Auckland. Like his other books, Time of the Icebergs is a sumptuous buffet - the tables laden with tropical flavours, lush colour and the astute taste buds of the cook.
Take any poem in this collection and you will strike an inventive ear as you hear the dazzling alliteration, assonance and rhyme. Eggleton doesn't just do sound for the sake of sound alone. The descriptions that emerge are equally inventive: "the freckled salty skin of the sea".
Like in any good buffet, there is much on offer. There are the staples of sky, sea, city and island that shimmer with ingenious concrete detail and that always stretch out to include the Pacific.
Eggleton salutes Elvis impersonators, a diagonal-crossing dance, the 5c coin and Michael Savage. He settles on things we take for granted, as in Ode to the Beercrate, and unveils an object that is "part of folklore memory/ staple of nostalgia." Like McQueen, his writing has a political undercurrent troubled by our need to acquire and to destroy.
The pace often gets your heart beating faster, but there are the shifts in tempo where an image stalls you as in Birds.
Leigh Davis was one of our most innovative poets. His first book, Willy's Gazette, has resonated in its originality and daring over decades.
His last book, Stunning Debut of the Repairing of a Life, was written after surgery on a brain tumour and while undergoing radiotherapy. As he struggled to communicate he kept a notebook of poems that then became the final long poem.
Sadly, he passed away before learning his manuscript had won the Kathleen Grattan Award for Poetry.
The first half of Stunning Debut reproduces pages from his notebook where language is like a foreign country to grapple with. It is as though he is transmitting something from a far-off place that gets fractured across the distance.
As you travel through the visual stutterings and the hiccupping sounds of the book, you fall upon lines you want to hold to the light and marvel at. Davis shows us what poetry might be: "Poetry is writing with space in it" or "just tolerant" or "bright beautiful surfaces". He also shows us what he wants: "warmth ... speed ... mystery ... love".
* Paula Green is an Auckland poet and children's author.
Poetry reviews
The Radio Room by Cilla McQueen
(Otago University Press $30)
Time of the Icebergs by David Eggleton
(Otago University Press $25)
Stunning debut of the repairing of a life by Leigh Davis
(Otago University Press $39.95)