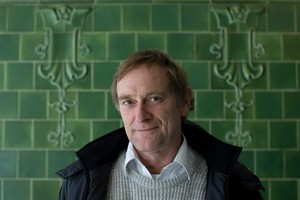 Next week, a group of New Zealand composers will tap into the energy and vibes of the city's popular Writers and Readers Festival.
On Wednesday, actor Stuart Devenie joins the Auckland Philharmonia Orchestra to perform six specially written settings for narrator and orchestra composed by John Elmsly, Chris Adams, Robbie Ellis, Yvette Audain, Alex Taylor and Stephen Matthews.
Devenie says they are "a very eclectic programme with a range of different styles and music that should make a really interesting evening".
Devenie had the task last year of narrating Schoenberg's A Survivor from Warsaw with the APO.
"The words were very much the servant of the music with the Schoenberg," he recalls. "But next week's offerings are more acting pieces, especially when Robbie Ellis tells the story of the last man hanged in this country. It's got a full narrative line and the music follows through supporting that story."
Talking politics, student composer Alex Taylor's piece, Attention, takes an even stronger stance on the Government's infamous "three strikes" bill.
The opening words, "There is no depression in New Zealand", are "a riff on the Blam Blam Blam song," says Taylor, "but taken in a slightly more overt darker direction."
Incorporating quotes by politicians from Judith Collins to disgraced Act MP David Garrett gives the composer the chance to "vent some of my political frustrations and viewpoints. You can't do that without a text".
"A lot of my previous stuff has been more abstract purely musical ideas," Taylor says.
"It really helps to have an actor who can embody the voices you want to get across."
John Elmsly has chosen a selection of short poems, many from the anthology of peace poems, White Feathers.
On Wednesday he will be the senior composer by some decades, joking that his other five colleagues have all, at some time, studied under him.
"I didn't attempt anything too specific or restrictive for the actor," he says.
"I did ask Stuart to chant a bit like a priest in the Basil Dowling setting, otherwise it's completely up to him to choose the manner of delivery.
"I haven't always liked the use of narration in music, and this project was quite a challenge.
"It's the whole matter of making the spoken voice sit within the music around it. Narration can easily just sound like somebody talking away in an everyday manner. On the other hand, if the narration is too strong or continuous, the music can retreat into the background."
In Stephen Matthews' Witnessing Parihaka contribution, Devenie will share the stage with actor Te Kohe Tuhaka and a group of children from Parihaka.
"This piece is about the conflict between Maori and Pakeha and it gets the fullest type of dramatic production," Devenie says.
Performance
What: Auckland Philharmonia Orchestra - Works with Words with Stuart Devenie, above
Where and when: Auckland Town Hall, Wednesday at 8pm