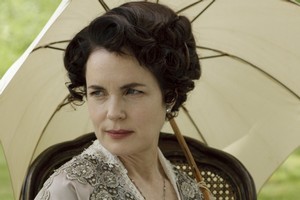 I have spent much of the week on my couch with a nice, warm blanket over my knees. A blanket over the knees, not to mention endless cups of tea, are what one needs when one has given one's life over to close observation of how the Other Half lives. Generally speaking, I'd say, after careful analysis and two gallons of Earl Grey, they're living pretty bloody well, whether they happen to reside in modern Britain, Edwardian Britain, or in some fly-blown dung heap in the Roman Empire.
Inevitably I watched Friday night's marriage of William and Catherine. Inevitably it was a celebration of pomp, circumstance, silly, silly hats and missing chins. Actually the main thing that seemed to be missing was hair on the top of William's head. Poor boy.
Money and privilege can't buy everything, apparently. Still, once I'd made the decision to watch the sober BBC coverage rather than the frankly embarrassing rubbish on TVNZ and TV3, it was lovely to hear and see what dosh and toff-dom can buy. I didn't really need the blanket to feel all warm inside.
This particular Other Half was an old-fashioned (natch) pleasure. Come Sunday night I was confronted by another Other Half who were, like Kate and Wills' wedding, an uneasy mix of ancient and modern. Mainly however they were far from the sort of company that even I, a lowly scribbler, would want to keep.
Having struggled last year through the first episode of Spartacus: Blood and Sand, I was unsurprised to find that the first episode of the new series, Spartacus: Gods of the Arena (The Box, 9.30pm) was also, and in equal parts, nauseating and exasperating. The new series is a prequel because first season star Andy Whitfield was diagnosed with non-Hodgkins lymphoma and was unavailable. However many key characters have returned, including Lucy Lawless' Lucretia and John Hannah's Batiatus. The new players include Tem Morrison as a gladiator trainer whose name I missed but should have been Jakias the Mussus.
As far as I could discern, with a lot of help from the blurb for the first show, Batiatus finally has control of his father's gladiator school and is scheming to win the favour of a nobleman in order get his fighters in a new arena. He was attempting this by using his best gladiator, a leering oaf called Gannicus, to beat up, well, everybody, but in the end Batiatus got beaten up himself.
At least I think that was it. Really, beyond the identifying of familiar faces, I really couldn't tell what the hell was going on. Mostly this is because the script, such as it is, is delivered at pace and in the sort of shouty, declamatory style you expect from a bad high school production. And - between the endless, self-conscious expletives - the dialogue is written in what can only be described as cod-Shakespearean meets Monty Python's Life of Brian, but without the laughs.
Trying to follow this bollocks gave me a headache. But not as much as the episode's frequent and gratuitous combination of hardcore violence and softcore porn. Still, and despite this, Spartacus is just a soap, a bit like a crass, cod-Roman take on Upstairs, Downstairs, though with rather more shagging and spraying of blood.
A rather more pleasing and civilised portrait of the interdependency of life upstairs and down opens for business next week. It is sometimes the privilege of mere scribblers to see TV before it airs and, in the case of Downton Abbey (Prime, Tuesdays, 8.30pm) it was a genuine joy to get an early look around this charming manor. Set in 1912, in the days following the sinking of the Titanic, this series centres on another Other Half, the Crawley family, who, while moneyed and landed, are really as much servants (of history) as their own servants.
Whereas Spartacus is for masturbatory 15-year-olds (who will be its audience despite the R18 rating), Downton is soap for adults who draw satisfaction from old-fashioned things such as a knowing, deliciously tart script, nice performances and themes about duty and the politics of class.
But I must be careful not to spoil the show for those yet to see it. What I will say is that it should be watched with a blanket over the knees and a piping hot cup of tea close at hand.
- TimeOut