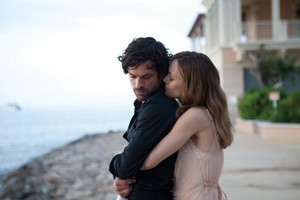 Want to break up a couple? Call Alex (Romain Duris), a Romeo for hire who excels as a professional relationship-wrecker.
In this farcical French romance, Alex faces his toughest challenge: 10 days to put the kibosh on an heiress' wedding to the perfect man, whose only flaw is a lack of flaws.
Model, singer and actress Vanessa Paradis, aka Mrs Johnny Depp, plays the feisty target Juliette, and prolific French actor Duris tackles his first romcom.
Blending the high-tech gadgetry of a James Bond movie and the sexy moves of Dirty Dancing, Heartbreaker is watchable and the duo look good together. But it feels like it's stuck between romcom and farce, and the predictable Hollywood ending is a let-down.
LOWDOWN
Stars: 3/5
Cast: Romain Duris, Vanessa Paradis
Director: Pascal Chaumeil
Running time: 104 mins
Rating: M
- VIEW