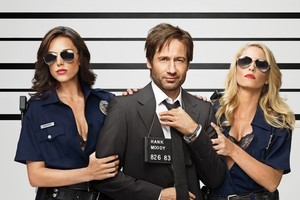 Oh God, have I turned into a prude? Have I finally arrived at the dreaded door marked "stuffed-shirt old bore who cannot be doing with rude words and ruder acts on the telly"? Hell (oops) I hope not. Actually I'm pretty sure I haven't. But I couldn't help but wonder, during the first episode of the new season of Californication (TV3, Mondays, 9.30pm), about how in the hell (oops) this show gets played on New Zealand television. Or on Anywhere television.
This made-for-cable show is rude. Very, very rude. In the space of the first half hour I lost count of the number of impolite, uncouth and downright vulgar sentences that were uttered by Hank and his baldy, loser sidekick Runkle. Frankly the Herald doesn't have enough asterisks available for me to quote all the four letter words used in Californication - in just one (or rather two, played back-to-back) episode. There were even two uses of my second favourite word starting with "c". And then there was the bare bum (oops) and boobs (oops).
Surely it's only a matter of time before the real prudes - the crabby, wanting-to-be-offended, letter-writing prudes who complain to the networks and the Broadcasting Standards Authority - start a bad-tempered, priggish campaign to get this show off the air. I hope not. But the bores are, of course, already busy. Why, only last month I was reading in this newspaper that TVNZ and MediaWorks were in the High Court appealing against BSA decisions hostile to TV2's Hung and "slightly saucy content" on TV3's drab but benign teen soap Home & Away. Evidently the major networks reckon the BSA, which has new members, has embarked on a more conservative and possibly activist approach to anything that can't be said or seen at school, in church or in missionary bedrooms, particularly if it screens inside the so-called watershed before 9.30pm.
The trouble is, I think, these bores don't have the right definition of offensive. Now I find quite a lot of television offensive. I find MasterChef offensive. I find Big Fat Family Challenge offensive. For Jebus (oops) sake I find the really rather harmless American Idol offensive. I find them all loathsome because there's not one single original thought between the three of them. They are unutterably dull without even the mitigation of being worthy.
Californication, despite being gleefully, wilfully rude, is at least fun like you've never had it. The dialogue, littered as it is with expletives, is written in some sort of rapid-fire Californian patois, with one perfectly formed hipster one-liner followed by another.
And Hank is, thanks to a bravura performance from David Duchovny, an utterly charismatic anti-hero who despite his appalling behaviour is so cool he could only exist in fiction.
"Is he retarded?" Hank's lawyer asked Runkle this week.
"He's actually," responds Runkle, "quite a good guy once you get to know him. He's very pleasant, very agreeable."
"Good to know," continues the lawyer. "Because on paper he looks like a total piece of shit."
Indeed he does. Thank goodness, then, we can again watch him on TV. And the good news is this: the next episode of Californication is on Monday. For all you prudes, that's Easter Monday.
-TimeOut