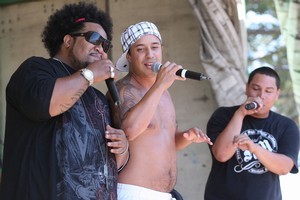 Nesian Mystik are ending on a high, relishing in their nominations across four categories of the 2011 Polynesian Blue Pacific Music Awards.
The Auckland-based hip-hop and R&B group announced late last year that they would be taking a break after the release of fourth studio album 99 AD, featuring the single Sun Goes Down.
The group was a finalist in the best album, best song, best group and best urban artist categories.
They are up against Christchurch-born Ladi6, who is also nominated for best urban artist and whose second album The Liberation of is up for best album.
Ladi6 is also nominated for best female artist, along with Auckland newcomer Erakah and veteran Wellington singer Bella Kalolo.
Pacific Underground, from Christchurch, are nominated for best group, and their sophomore album Island Summer is up for the best Pacific language and Pacific music album categories.
Meanwhile J Williams, Young Sid and Vince Harder are in the running for best male artist.
The awards are in their seventh year and winners will be announced at an event at Manukau City's TelstraClear Pacific venue on May 28.
-TimeOut