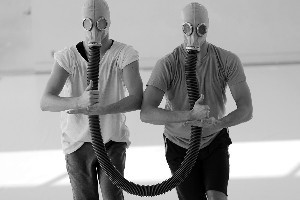 So. Children eat cockroaches, prisoners are commodities and financiers get paid for the recession they caused. What, you may be asking, does this have to do with the arts? In the current cultural climate, this is a good question. Critiquing society and economics is not sexy, in the visual arts at least. But whether it admits it or not, all art is political. An artwork influences the way we think and feel, and is either reaffirming the status quo, or questioning it.
So which arenas is the art world interested in investigating these days, and which is it ignoring? Has art noticed there's a war on? That GST went up?
Artists, dealers, buyers and critics at the high end of the contemporary visual art scene reading this will probably be rolling their eyes at my naff naivety. Art works at a more esoteric level, they say, for a small and knowledgeable audience. Good politics, so common wisdom holds, is unlikely to make good art.
Getting angry and getting a message across isn't art, apparently, it's propaganda. Avant-garde art and revolution no longer skip together hand-in-hand; the Auckland Art Gallery's Local Revolutionaries exhibition only contains work up until 1986.
A friend remembers being struck by the intensity of Ava Seymour's 1997 Health, Happiness and Housing photomontages of state houses and disabled people. But according to the website of Seymour's dealer gallery, Michael Lett, in recent years "Seymour's overt socio-political content has given way to a more ambiguous blend of textiles, modernist architecture and 1960s ceramic designs."
Fair enough, she's one artist with her own muse to follow. But "overt socio-political content" has all but disappeared from all our galleries. If one must explore themes which touch a political nerve, say the high end taste-makers, then cultural identity and race relations are acceptable, although becoming less fashionable. Comment on the global environmental crisis in vague terms is on the rise, and you can occasionally paint something to further a specific good environmental cause. Critiquing human interaction with technology is in vogue. But that's about it.
What about the other arts? Auckland theatre has recently offered pockets of commentary on homelessness, Iraq, Scottish politics, and race relations. In dance, Douglas Wright's latest work Rapt involved gasmasks and an orbiting TV.
Respected poet Olivia Macassey has just released a chapbook of her long poem, Client Numbers, about clients of state institutions like prisons and social welfare. She mixes lyrical evocations of McCahon paintings with other, more direct passages, such as this one about hospital: "We can't afford the taxi, & let something/ show up in their tests, cos the 4am discharge/ of Undiagnosed walks cold up my spine/ through the cloud of pethidine & lights. / Name please, name. Please /let me stay the night."
Perhaps visual art is more noble than poetry. Or perhaps visual art works hard to keep its own wealthy clients happy. Naturally, they don't want reminders of poverty on their walls.
I'm not saying that artists avoid socio-political commentary because it won't sell. They avoid it because they're told - wrongly - that such art is bad art, by definition.
Macassey doesn't face the golden gag of buyers who'll spend thousands on art that avoids embarrassing topics (lucky her). And lucky us - she has made her excellent, sophisticated poem available on her website, free to anyone with access to a computer; www.macassey.com