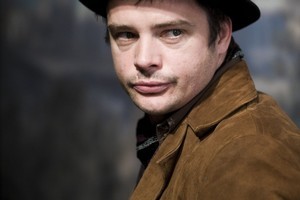 Friday night drinks?
Chapel always has a great spot in the sun on a Friday arvo.
Where I'll be wearing my new:
Silver one-piece lycra suit with moon boots until someone phones the police.
And this weekend I'm planning on:
Catching up with my best friend who's back from the Middle East, and then we're road-tripping to a wedding in the Wairarapa. I love the Wairarapa... that is a fact.
But first I'll need to refuel at my favourite cafe:
Agnes Curran... and maybe a boysenberry danish from Rob's Patisserie if it's a Sunday.
Saturday evening. If my dreams came true there would be a gig by:
Neil Young, with my dad standing by my side would certainly be a dream come true.
But if there's nothing else doing I'll probably just:
Surf the net looking for parties or take a drive down Queen St.
On my stereo/headphones right now is:
Royal Falcon.
The books I can't put down are:
The Life and Work of Harold Pinter by Michael Billington and The Book of the Story of My Life by William Brandt.
The TV show I take the phone off the hook for:
Life with David Attenborough
The movie I've been dying to see:
Jake, an indie feature film by Hybrid Motion Pictures, Ghostshark 2: Urban Jaws and Netherwood.
A non-cooking Monday night means takeaways from:
Taqueria - burritos and Coronas is a great way to kick the week off.
Or a splash-out Wednesday night restaurant would be:
Rocco on Ponsonby Rd but it has since closed down, so now it's the foodcourt across the road.
*Leighton Cardno plays Leo who has his eye on Britta on Go Girls.