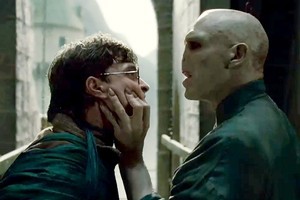 Fans of Harry Potter can look forward to more movie magic after the final instalment of the wizarding franchise hits screens in July - an access-all-areas documentary is set for release.
Harry Potter and the Deathly Hallows: Part 2, which stars Daniel Radcliffe, will bring the series to a close, but producer David Barron told MTV News that moviemaker Morgan Matthews filmed a tell-all during the shooting of the picture - and it's set to be made public.
"He went behind the scenes and had incredible access to talent and crew and has made a documentary that is not yet complete, which shows the challenges of making the film - the tolls it takes on actors and crew. It's not just pure gloss and everybody's happy. It's real ... At the same time, it's really, really funny," Barron says.
Barron also reveals further documentaries could be in the works, as cameras have been on hand to capture all the action on set since the first film, 2001's Harry Potter and the Philosopher's Stone.
"It was a very well-documented production. We had a crew filming behind the scenes for the entire production, which is unheard of - and that's been for all the films. There is material, and we'll see how it's used. I'm sure Warner Bros will package it in some form or another," he adds.
-AAP