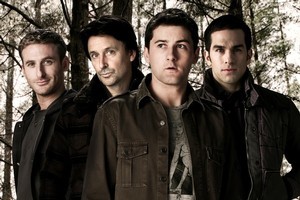 Last night's final of the TV3 comedy-drama designed to replace local fave Outrageous Fortune was as left-of-field as its mythological concept.
The past episodes of The Almighty Johnsons had followed the quest of the four Johnson blokes who were the reincarnations of Norse gods. Mike (Tim Balme), Anders (Dean O'Gorman), Ty (Jared Turner) and Axl (Emmett Skilton) as well as youthful grandpa Olaf were men on a mission.
They had to find the goddess Frigg, and marry her off to youngest bro Axl. That's because when he - being head god Odin - got hitched, all the siblings would get back the powers that their ancestors had squandered since leaving their mythical home of Asgard and settling in Dannevirke.
Their quest had led them and Axl on some wild adventures in search of Frigg.
She wasn't the simple girl from the goat farm, and she wasn't the librarian with the fetish for Norse mythology played by Antonia Prebble.
No, by episode 10 the Johnsons believed that Frigg was Eva, a tortured soul who was butcher by day and emo singer-songwriter by night. Brooke Williams, who played Eva, was also Van's Russian bride at the end of Outrageous Fortune, while her smarmy lawyer father was played by Shane Cortese.
But other than the recycled cast, kiwi-isms, and abundance of sex scenes, The Almighty Johnsons was a complete departure from Outrageous Fortune.
Thankfully, it's also been just as gripping and funny.
It's long been on the cards that Axl would end up with his flatmate Gaia (Keisha Castle-Hughes), having been smitten with her from the beginning. And it turned out that Eva is actually Hela, goddess of the underworld, not Frigg, goddess of marriage.
But following his heart - rather than the unintelligible prenuptial contract drawn up by Eva's cunning Dad - presented Axl with a dilemma.
If he didn't marry Eva, eldest brother Mike, being a signatory to the agreement, was dead.
Fortunately, his next-eldest brother Ty, who was positively suicidal after nearly accidentally killing his girlfriend with his snap-freeze powers, stepped in to marry the wretched woman.
Other finale revelations? The Johnson boys' goddess mum didn't abandon them and turn into a tree, after all, as had long been the family's dark secret.
She's actually Agnetha (Alison Bruce), the head goddess who's been plotting against them all along. But why she's so down on her brood is something for a second series to answer.
Last night's gripping first series finale did everything it should have; thrashed audience's emotions, quashed theories and left them teetering on the edge of the unknown.
Ten episodes felt too short, and a year is going to be a mighty long wait to find out the answers.