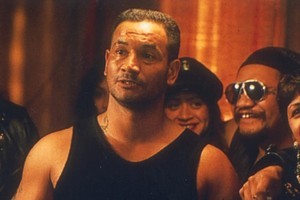 Temuera Morrison has been a man of many nationalities over his years on screen - Maori, Indian, Mexican, and a man from whatever planet Jango Fett calls home in the Star Wars universe.
But now he's playing a Roman. The actor formerly known as Jake the Muss can be seen in Spartacus: Gods of the Arena, the prequel to Spartacus; Blood and Sand.
The made-in-Auckland series for US cable network Starz starts screening in New Zealand on Sky TV on Sunday May 1.
Morrison's character Doctore joins the the core cast, headed by Dustin Clare of Underbelly, who plays gladiator Gannicus.
Many regulars from the first series are returning. John Hannah is back as Batiatus, Lucy Lawless resumes her role as Lucretia, Peter Mensah appears again as Oenomaus, and Manu Bennett as Crixus.
Spartacus: Blood and Sand was one of the highest rating series on pay television in the US, and premiered in New Zealand last year.
A second season risked being pulled after English actor Andy Whitfield, who played the title character, withdrew from the series because of his Hodgkin's lymphoma.
He was treated early last year and returned to the series in May but by September had pulled out of the series to seek more aggressive treatment.
Under its new configuration, Spartacus: Gods of the Arena was watched by more than 2.8 million viewers when it premiered in the US earlier this year.
-TimeOut