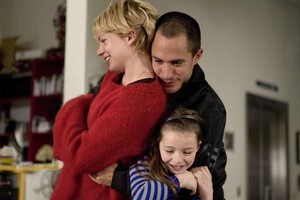 This globe-spanning contemporary drama from Swedish writer/director Lukas Moodysson (Lilya 4-Ever) can function as a slightly less histrionic take on the multiple-narrative films of Alejandro González Iñárritu (Babel). Michelle Williams and Gael Garcia Bernal (Y Tu Mama Tambien) play Leo and Ellen, an emergency room surgeon and a video game entrepreneur. The busy young New York couple are helped in raising their 7-year-old daughter by their Filipino live-in nanny Gloria (Marife Necesito).
The threads of a happy life begin to unravel, though, as we follow Leo on a business trip to Thailand where his attempts at seeking an authentic local experience lead him astray. Back in New York, Ellen is feeling increasingly disconnected from her daughter, who is utterly devoted to Gloria. Meanwhile in the Philippines, Gloria's two young sons are suffering the strain of their mother being on the other side of the world.
Beyond the palpable sense of forboding and mildly diverting melodramatics, Mammoth kept my attention with how intimately its characters were portrayed.
Most films take a simplistic view of the family versus work argument, so it's nice to see a slightly more layered approach. Back in scrubs so soon after her acclaimed drama Blue Valentine, Williams delivers another highly authentic performance. Necesito also brings Gloria vividly to life, and Bernal invites viewer empathy.
Stars: 3.5/5
Rated: M
Running time: 125 minutes.
Out now
- View/Herald On Sunday