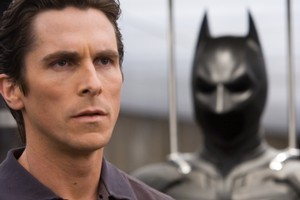 Movie bosses behind the Batman franchise have confirmed the Caped Crusader will return following Christopher Nolan's upcoming third film, sparking rumours they are already hunting for an actor to take over from Christian Bale.
Bale will return to play the superhero for a third time in Nolan's next movie The Dark Knight Rises, opposite Joseph Gordon-Levitt, Gary Oldman and Anne Hathaway as Catwoman.
The Oscar-winner has already hinted he will hang up his cape when Nolan steps down as director after his third film, and now Warner Bros. president Jeff Robinov has confirmed they are looking to "reinvent" the franchise following the upcoming 2012 installment.
He tells the Los Angeles Times, "We have the third Batman, but then we'll have to reinvent Batman... Chris Nolan and (his producing partner/wife) Emma Thomas will be producing it, so it will be a conversation with them about what the next phase is."
-AAP