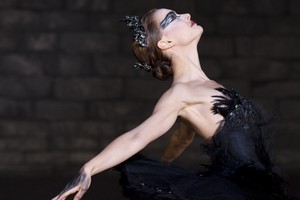 The studio which made the film Black Swan is defending its star Natalie Portman, after claims she did hardly any of the ballet dancing featured in the movie.
Fox Searchlight has released a statement to counter the allegations of Sarah Lane, Portman's body double in the film, who says she performed all the pirouettes, the full-body dancing shots and the leg shots in the film.
"We were fortunate to have Sarah there to cover the more complicated dance sequences and we have nothing but praise for the hard work she did," the statement reads.
"However, Natalie herself did most of the dancing featured in the final film."
Portman's husband, who also worked as Black Swan's choreographer, Benjamin Millipied, has also defended the star, saying she did 85 per cent of the movie's dancing scenes.
Last month, Portman won the Best Actress Oscar for the film, in which she played a young ballet dancer trying to get a lead role in a production of Swan Lake.
But in an interview with Dance magazine, Lane said producers of Black Swan were "trying to create this impression that (Portman) became a ballerina in a year-and-a-half."
In the Wall Street Journal today, Lane claims she didn't get the credit she deserved in the movie.
"I had read a lot of articles that Natalie had done where she said she did 90 per cent of the dancing, and never mentioned my name once," Lane said.
"I'm not stupid, I got the idea that they really want to make it look like she had accomplished something incredible.
"And I do want people to know that she did work really hard. She lost a lot of weight so that if you looked at her you would say she could pass from the arms up as a dancer.
"She's an amazing actor. I can't act like that. But to say that she did all of the dancing is absolutely ridiculous to anyone that knows anything about ballet."
Lane also says Fox Searchlight officials asked her to stop giving interviews in the lead-up to the Oscars, in order to give the impression that Portman did most of the dancing.
"A producer, Ari Handel, called me directly and he asked me to not do more interviews ... until after the Oscars," she said.
"I didn't say that I would, but I kind of wrote an email back that I was sort of offended that after all the hours I put into the movie that he would ask me to do this."
Lane, who is a dancer for the American Ballet Theatre in New York, is credited as "Lady in the Lane" in the film.
Portman, who failed to thank Lane in her Oscar acceptance speech, is yet to comment publicly on the issue.
-AAP