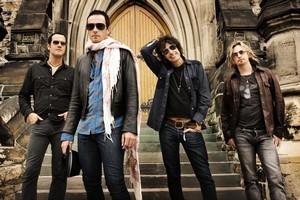 Stone Temple Pilots proved they were more grunge rock sovereigns than survivors when they charged Vector Arena on Saturday night.
Maverick lead singer Scott Weiland's "I'm glad you all defeated the Orks" comment gave some indication to how long the fans had waited to relive the raging anthems of the 90s that made them one of the highest-selling rock bands of that era.
The Auckland concert was part of the San Diego-based band's much-anticipated tour of their latest self-titled album - their first release in nearly a decade. And just as the record reflects a return to the glory days, their performance indicated they had rekindled the stoic brotherhood that brought them together in the late-80s.
Ripping up a slick cacophony, the memories attached to their bruised, moaning songs worked the staunch crowd into a frenzy as the band built towards one of the most climactic moments of the show - Plush. It was the older songs, like this and Big Empty and Sex Type Thing (delivered partly by megaphone) that triggered the biggest surges of enthusiasm from the crowd, though the more upbeat new songs also got the nod of approval.
Weiland's destructive ways may have eroded the band's dreams when they split in 2003 but Saturday's performance - where he writhed like a reptile and Robert and Dean DeLeo fed off each other's riffs beside him - showed they just weren't ready to give up such a good thing.
THE LOWDOWN
* Who: Stone Temple Pilots
* Where: Vector Arena
* When: Saturday night