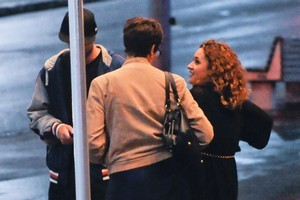 Abuse from passing motorists marred one of Keisha Castle-Hughes' first public outings since she was handcuffed after a bar stoush this month.
Castle-Hughes, her boyfriend Michael Graves and a friend were subjected to heckling from cars as they left the afterparty of the play Bare.
The charity fundraiser for the Christchurch earthquake victims was held at Auckland's Civic Theatre on Friday night.
The Oscar nominee and her boyfriend were released without charge three weeks ago after a bar fight erupted over sexually slanted comments about her Whale Rider performance.
Friday's heckling ended an otherwise uneventful afterparty for the play which featured a heavy-hitting cast including Lucy Lawless, Sam Neill and Rhys Darby.