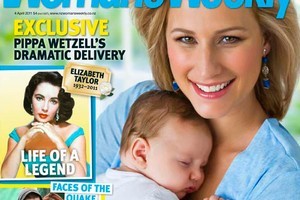 This time, there's no turning back. This time, says Pippa Wetzell, she won't be returning to Breakfast.
The TV host who was last month voted New Zealand's most desirable woman has this weekend let the public in for a peep at her new life - as a mother-of-three.
NZ Woman's Weekly has published the first photos of Wetzell with her new baby boy, Taj Patrick Crowther.
And the 34-year-old mum says she won't be rushing back to the early morning shifts of yesteryear, as she did after the birth of daughters Brodie, 4, and Cameron, 22 months.
"I knew I was going back to work after six months with Cameron - this time I'm not working towards anything," she told the magazine.
"I love having another aspect of my life, but right now it's smaller than this aspect, which is me being a mum."
"Although I'd love to go back to TVNZ, it will have to be something that works with my current situation. It'll be great if one day I get the dream job, but right now I'm already doing it."
After Taj's birth, she told the Herald on Sunday how she was looking forward to losing some baby weight - and occasionally watching new Breakfast hosts Petra Bagust and Corin Dann, while she breastfeeds.