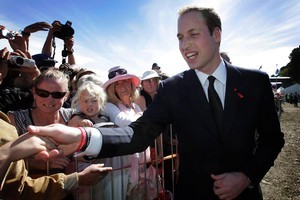 Prince Charles offered architectural advice to Christchurch but didn't visit, whereas Prince William shelved ongoing wedding plans last week to support our quake victims. So, who should be New Zealand's next King?
Wills generously put his wedding plans on hold and arrived in earthquake-devastated Christchurch on Thursday to view severely damaged areas and the Emergency Management Centre.
Then he flew to Greymouth to console families of those killed in last year's Pike River Mine explosion. The following day he spoke at the National Memorial Service at Hagley Park, before jetting to Oz on Saturday to comfort flood and cyclone victims in Victoria and Queensland.
William's last-minute, two-day visit was designed "to show solidarity with the Australian and New Zealand people at this time of devastating natural disasters," a Clarence House spokesman said.
He and his fiancée Kate Middleton nominated the Christchurch Earthquake Appeal as one of a select group of charities in their Royal Wedding charitable gift fund and have asked that anyone wishing to give them a wedding gift consider giving to the charitable fund instead.
But where is his father who is supposed to be New Zealand's next king?
Prince Charles is busy offering unsolicited architectural advice to Christchurch stressing the need to save the city's historic buildings.
Charles's architecture charity, The Prince's Foundation for the Built Environment, says its keen to help.
The charity's chief executive, Hank Dittmar, told Canterbury art historian Ian Lochhead: "If asked to assist, we are certainly willing to help ensure that heritage preservation, earthquake safety and economic recovery go hand in hand in the recovery process in Christchurch."
Christchurch Labour MP Brendon Burns, evidently a monarchist, thinks that's grand. He told The Press this sort of recognition shows "we are on the international tourism map ... to get a signal from the Foundation saying they are willing to come and help is a very public signal of support from someone with considerable mana."
Who, Charles? I've met the man. Charming and gracious, he most certainly is, which prompts the question: If he's prepared to put his charitable funds at our beck and call, why not a quick trip to show he cares at a personal level?
On Thursday our future king celebrated the 400th anniversary of the King James Bible at his pad, Clarence House. His diary was clear for the following four days.
The author of the new book, Harmony, about his philosophy on sustainability, shows he is a thinking man - but is he a caring man?
Or is his son a much more worthy and savvy contender for the crown and the title The People's Prince?