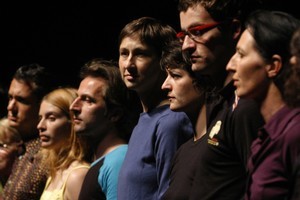 Jerome Bel's The Show Must Go On is not so much a dance show as a show about dance. Its conventions, constructions, its expected forms, are mostly stripped away.
What is left for examination is the function of dance. What compels us to move to music, to seek it out on display?
There are 19 pop songs, some good, some bad, some mediocre in the extreme, but all universally familiar. There is a DJ. There are 20 dancers, plucked from the general populace.
Some, maybe five, are experienced performers. Some have no relevant experience at all.
The music drives the show. The lyrics are important. It takes a while for some in the audience to get it, that if the song says Let the Sun Shine In there will be sunlight. If the song says Come Together the cast will arrive.
The man on the left remains deeply unconscious through several tracks. He doesn't even realise the show has begun. He talks loudly about the Mercury Theatre's architectural features, waves his arms, aiming to impress his handsome young companion.
The young woman to the right, a dance student, leads the irritatingly chirpy chorus of false and forced laughter.
"I get it! I get it!" Even when it's not that funny.
Quite a few people leave. Along with Left Man. Hurrah!
Some of the antics are rude - I Like To Move It. Some are strangely touching - Ballerina Girl with some truly awful ballet and Into My Arms for its uncompromised compassion.
John Lennon's Imagine with the stage a black void, proves too much for most people. But 20 bodies sprawled motionless on the floor to Killing Me Softly with His Song draw a total hush.
Then it is all over with repeated curtain calls to The Show Must Go On.
It has been a great show. A totally absorbing 90 minutes. Twenty dancers and one DJ who also danced, have fronted and confronted. Characters have emerged. Stories have been told. Questions have been provoked. Like what compels us to move like this? Why do we seek this behaviour out and on display?

*The Show Must Go On runs at the Mercury Theatre till Saturday