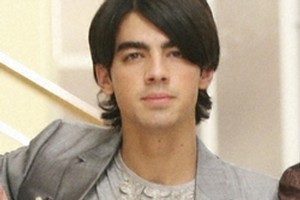 It's curtains for singer Joe Jonas and Twilight star Ashley Greene's romance - the couple have parted ways, their reps confirm.
"We can confirm they have parted ways and have no further comment," reps for the former lovebirds, who first hooked up in July last year, said in a statement.
So what happened?
"It was mutual and amicable," a source told the NY Post's Page Six pointing to another cookie-cutter split. The source adds that their hectic work schedules is what ultimately harpooned their romance.
Joe Jonas, 21, one-third of the Jonas Brothers, has been busy working on his solo album, while Greene, 24, is currently filming the latest Twilight film, Breaking Dawn, in Vancouver.
Word is the pair pulled the proverbial plug shortly before Greene's 24th birthday.
"They broke up shortly before her birthday, then got back together," a source tells Usmagazine.com.
Jonas even organised her birthday bash, adds the source: "He wanted to make sure everything was perfect. He was really sweet and conscientious."
But it didn't last. "Joe wasn't that into it," adds the source. Ouch!
"It was never that serious. It was a fun, five-month relationship," another source close to Greene tells E! Online.
The timing of the split coincides with Jonas' cover story in Details magazine, in which he gushed about his relationship with Greene.
"I think what works about it is she really puts my feelings first. She understands my busy schedule. She'll fly out to my shows-she's been to places in South America that I can't even pronounce," Jonas told the magazine.
What a difference a few weeks makes.
Jonas previously dated Demi Lovato, Camilla Belle and Taylor Swift - who he famously dumped in a 27-second phone call back in 2008. So scorned was Swift after the 'dial 'n' dump' routine, she penned the break-up song Forever and Always about the experience.
Well wrap your ears around this one, Swift, Jonas may very well be name-checking you on his upcoming album.
"I think all artists have a right to write about what happens to them," he told Details magazine. "I have a right to write about things, too."
He added that the album deals with "different love scenarios that I've been through, breakups, hurts. Me hurting somebody and feeling bad about it. I think there's a lot of scenarios where people might wanna hear my side of the story."
Like it's a question. Pass the popcorn!
Royal gaffe
Something you need to tell us Kate Middleton?
Middleton is all set to trot down the aisle and marry her prince on April 29. That prince being her fiancé Prince William. But not according to the makers of a commemorative mug...
A Chinese firm called Guandong Enterprises has designed a commemorative mug to celebrate the nuptials, crafted from the very finest bone china.
Slight problem. While Middleton and her sunshine smile can be seen beaming from the souvenir mug, they've only gone and stuck the wrong prince next to her.
She's pictured next to her soon to be brother-in-law, Prince Harry. Whoops!
Take a peek here
"Guandong Enterprises has the greatest pleasure to present to you this beautiful cup to commemorate the wedding of HRH Prince Willliam and his stunning lady bride to be, Miss Kate Middleton," reads the website's blurb.
"Crafted in the finest bone china, it features an exquisite design of the happy couple with ornate gold detailing to honour this great moment in history."
And potential shoppers note the small print, which states that the mugs "are not supplied to, or approved by, Prince William of Wales, Catherine Middleton or any member of the Royal Family."
Maybe they'd have the right brother if they were. Gold.
Blogger's Briefs
This lot just in...
* Colin Farrell & Rihanna enjoy a dinner date?
* Sandra Bullock donates $1 Million to Japan disaster relief
* Keith Richards: 'I DID snort my dad's ashes'
* Batman star Michael Gough dead at 94
* Mel Gibson booked, Oksana Grigorieva reacts
* Jason Patric on Ashley Judd: 'Just a lazy and arrogant actress'
* Megan Fox headed to Knocked Up sequel?
* Did Ke$ha really drink blood on stage?
* Billy Ray Cyrus: 'I'm calling off my divorce'
* Courtney Love toyed with snorting Kurt Cobain's ashes
Blogger Bites Back
* Read more celebrity news and gossip from Myrddin Gwynedd (MG) here