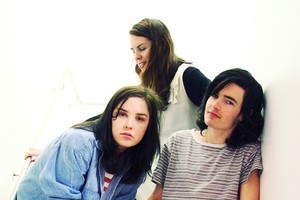 As you read this a bunch of Kiwi bands will be preparing to take the stage at the annual music extravaganza SXSW in Austin, Texas.
This year the Naked and Famous headline the traditional New Zealand showcase which kicks off at 11am today New Zealand time (that's 5pm, Wednesday, Texas time) at Austin venue Brush Square Park with Auckland rowdies Street Chant (pictured), songstress Brooke Fraser, folk wild child Liam Finn, pop pixie Zowie, and rapper David Dallas also on the bill.
Also in Austin, at various venues around the city during the course of the influential music industry festival, are arty and grandiose rockers Battle Circus, pop upstarts Kids of 88, hip-hop stalwart King Kapisi, and indie rock band Surf City.
- TimeOut