Albrecht Mayer,
Bonjour Paris
(Decca)
Rating:
4/5
Ravel, Complete Piano Music (Hyperion, through Ode Records)
Rating: 5/5
Verdict: "A German and an English man sample the French experience with mixed results"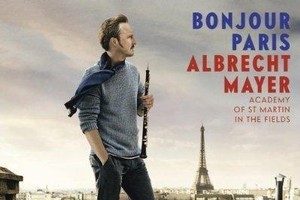 Albrecht Mayer's Bonjour Paris could be one of those musical candy concoctions that record companies roll out for the Christmas market.
However, once you've braved the awkward prose tangle of its booklet essay, the music does offer some rewards.
Mayer is such an exemplary oboist that even the expected pastoral-style bytes of Satie, Ravel and Debussy are almost bearable.
Reynaldo Hahn's gorgeous A Chloris, sans words, sounds even more like a classic Baroque Adagio when Chris Hazell's arrangement replaces the wafting arpeggios of its central section with contrapuntal sparseness.
You can pass over the album's token nod to the contemporary.
The Swiss Gotthard Odermatt is oboist first and composer second; his cliche-bound sketch of Summer is far from the potential Ravel Oboe Concerto it is claimed to resemble.
There is, thank goodness, some substantial fare.
Jean Francaix's L'Horloge de Flore catches a floral clock, bloom by bloom, with a trip to Latin America for the night-flowering jasmine. Best of all it allows those fine musicians of the Academy of St Martin in the Fields and conductor Matthias Monius the chance to blossom in a work that gives this disc its raison d'etre.
If you want to immerse yourself in the total French experience, search out Steven Osborne's new Hyperion recording of Ravel's complete piano music.
Ernesto Halffter once said that he preferred to hear Ravel play his own music with mistakes than anyone else playing it without them. I suspect that the Spanish composer would be chomping on those words if he could hear Osborne. The English pianist ventures into Ravel's world of magic, casting spell after spell.
His pairing of precision and poetry give grimness a gleam of its own in Gaspard de la Nuit; the Minuet of the Sonatina - a tune that Albrecht Mayer could have popped into his Parisian postcard album - almost tingles with clarity.
Osborne gave us Mozart, Shostakovich and Oscar Peterson when he played with the NZSO in 2009; now he proves an orchestra may well be dispensable if you have Ravel's transcription of La Valse under your hands.