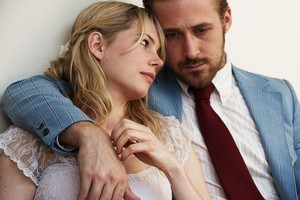 First things first: this small, intense drama, a sort of anti-Valentine to love turned sour, is driven by two of the most authentic and passionate screen performances you'll see this year. Gosling has shown his chops before, notably in the complicated role of an inspirational, crackhead schoolteacher in 2006's excellent Half Nelson, but Williams' Oscar-nominated work here is the real revelation.
The film unfolds in two timeframes - the action toggles between one and the other: the meeting and courtship of Dean Pereira and Cindy Heller and the meltdown, six years later, of their marriage.
It's a hauntingly familiar progression: she finds his carefree dreaminess charming at first, exasperating later; his romantic extravagance early on - he serenades her with a ukulele and agrees unhesitatingly to raise another man's child - will curdle to drunken self-loathing before it all goes pear-shaped.
To say so is not to give away as much as it seems to since we see the end pretty near the beginning of Blue Valentine and because we know what's coming, the sheen is scraped off the early romance.
But the film's fatal flaw is that there is no arc connecting the beginning and end points. We get a good sense of the roots, in dysfunctional families of origin, of their separate pain but two characters are like four really, because we are forced to fill in the blanks between their older and younger selves. Writer-director Cianfrance is so devoted to his chronological device that he lets it drain any sense of organic life from the characters.
To say that it takes a bleak view of love - no matter how intense and sincere our passions, they cannot cut the ties that bind us to our distant past - is the least of it. Blue Valentine's crucial flaw is that it leaves two absolutely outstanding performances in search of a coherent story.
Stars: 3.5/5
Cast: Ryan Gosling, Michelle Williams
Director: Derek Cianfrance
Running time: 112 mins
Rated: R16, violence offensive language, sex scenes and content that may disturb
Verdict: Two brilliant actors in search of a story
- TimeOut