The Black Seeds' Barnaby Weir turns country rocker on his debut solo album.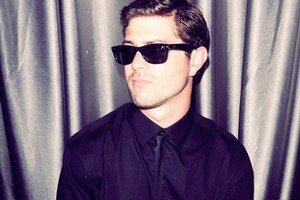 He is the voice of the Black Seeds, the heart of the ever-evolving collective Fly My Pretties and the man behind the Flash Harry moniker. But now, as he releases his debut solo album, he is simply Barnaby Weir.
With such an esteemed and eclectic musical background, you can't help but wonder how Weir chose what fork in the road to take with new album Tarot Card Rock.
The Wellington-based musician says it wasn't so much a deliberate thought process as allowing the "good stuff to stick around and float to the top".
"I didn't really have an opportunity to think 'What should I do with my first album?' It was already there," he explains.
"It's like being a visual artist collecting drawings and paintings over the years. Not all of it fits into your exhibition. And I guess I had made a whole lot of tunes that wouldn't fit into a Black Seeds box or a Fly My Pretties box."
What has emerged is an album of country-rock with an American roots base, or, as Weir puts it, "a bunch of songs with rudimentary tones. You know, classic rock and roll but with a bit of country. It's pretty basic stuff but using the tones we all know and love".
It's an emotive and personal record that spans a vast spectrum of moods, from the celebratory title track to the heartwarming Old Friend and the melancholic Replay In My Heart.
Having spent much of his career working within the confines of groups, making the album has been refreshing but the self-confessed perfectionist also faced plenty of hurdles - some he's yet to clear.
"It was a challenge to dig deep and express myself in a personal way. The challenge now is to get it out there and to take the criticism and the praise."
Weir is also laying down his own challenge for fans. "A lot of people will expect something from me, probably from the dub and reggae realm, and they're not going to get that. I guess we'll just have to see how that goes."
Barnaby Weir's debut album, Tarot Card Rock, is out now.
- Herald on Sunday / View