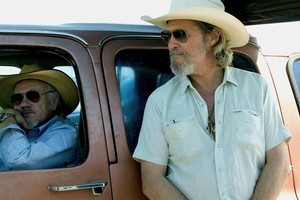 When the Coen Brothers pulled off the coup of persuading Jeff Bridges to take the role of Rooster Cogburn in their new film, an elegant and quite moving western called True Grit, they got what in Hollywood terms is a rare bargain: two actors for the price of one.
The first was Bridges, 61, a grizzled superstar who last year cemented his place in entertainment history when, at the fifth time of asking, he was summoned at the Oscars to pick up a trophy that declared him to be the film industry's Best Actor of 2010.
The second was Loyd Catlett. At 56, he shares the flowing grey hair and laid-back demeanour for which Bridges is famed. And he has starred in almost as many hit films.
But unlike most actors, he earns his crust by staying in the shadows.
For 40 years, Catlett has been Bridges' official stand-in. The men, best of friends off-camera, have collaborated on dozens of live-action films, from The Big Lebowski to Crazy Heart and both versions of Tron.
They look similar, sound identical (both say "groovy" a lot), and in many famous scenes are quite literally interchangeable.
It turns out that almost every Jeff Bridges film you've ever watched features two versions of Jeff. One is the accomplished veteran actor the world knows and loves.
The other - often used in long-range shots and scenes involving camera angles where viewers cannot see the star's face clearly - is Catlett.
"If people ask, then I generally tell them that I sell bar napkins and swizzle sticks for a living, so I don't have to answer a lot of questions. But if I have to, I tell them that I have three job titles: I'm an actor, I'm a stuntman, and I stand in for Jeff Bridges."
Catlett has a sprawling CV. Several of the riding scenes in True Grit, for example, show him on galloping horses in the costume of Rooster Cogburn, using equestrian skills he honed as a child on a farm in Texas.
He also performed Bridges' impersonations for many of the action sequences in Iron Man, stepping into Obadiah Stane's heavy superhero outfit while the real Bridges watched from the wings.
For most of his adult life, Catlett's role has been kept hidden. But Bridges lifted the lid on the existence of his alter ego at last year's Golden Globes, when he won Best Actor. He declared: "I want to thank my stand-in, Loyd Catlett. Thank you, Loyd!"
Catlett was watching on TV at home. "It shocked me when Jeff mentioned my name. I went 'Wow!' It was very kind and quite touching. I felt extremely groovy about it. And of course I was very happy and proud and excited for him, too."
The rare name-check also helped to shed light on "stand-ins"- a little-know community of Hollywood performers. Almost every big star will use one at some stage of movie production, but only a few will admit to it. And while a small number of actors employ long-term stand-ins, most will keep the same one for only a few films at a time.
The lion's share of Catlett's work occurs when film-makers are preparing to roll cameras. "Jeff comes in and rehearses. I watch his moves and what he's going to do with the scene," explains Catlett. "Then I emulate his movements for next the couple of hours, so the director of photography can set up the cameras and lights."
For True Grit Bridges and Catlett were both required to cultivate extravagant beards. They compared facial hair by emailing each other photographs. That process only added to the close physical resemblance between the two men, which at times can cause confusion.
"If we're shooting in a small town and people know Jeff's around, I'm often mistaken for him," says Catlett. "In restaurants, people will say, 'There he is!' To make them go away, I use the old routine: telling 'em I sell bar napkins and swizzle sticks for a living."
Catlett first met Bridges when they were both cast in the 1971 film The Last Picture Show. He was a small-town boy from Wichita Falls in Texas whose ambitionsfor a career as a professional rodeo rider had been quashed by injuries. Bridges, 21, was a paid-up member of the Hollywood "brat pack", with superstar parents and a string of glamorous friends.
The two young men clicked, and Catlett followed Bridges back to Los Angeles at the end of filming. In the 40 years they have worked together, Catlett says, the duo have grown more alike, to the point where their off-screen characters are now often interchangeable. "There's been years that we've spent more time with each other than with our own families. So our mannerisms have adapted unconsciously, I think."
The men email most days and speak over the telephone a couple of times a week. If Bridges is considering a new role, he will send Catlett the script and ask whether he considers it to be "groovy". When Bridges is preparing for a role Catlett often collaborates on the research process. If life as the "other" Jeff Bridges has prevented him from pursuing an independent acting career, then Catlett isn't letting it get him down. "I'm not going to beat myself up because I'm not getting parts. I make a good living. It's a great life."
Lookalikes
Jeff Bridges
61. Oscar winner actor and Hollywood heavyweight.
He says: "We've done over 50, 60 movies together, man. Thank you, Loyd!"
Loyd Catlett
56. Official stand-in for Bridges for 40 years.
He says: "I am expendable, he is not."
- INDEPENDENT