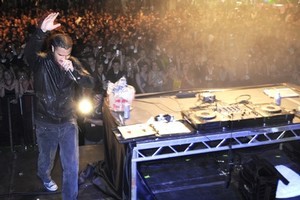 He's opened for Muse, the Killers and Foo Fighters in the past, and now our very own superstar DJ Zane Lowe will be supporting the Chemical Brothers when they play in Auckland next week.
The New Zealand-born, London-based radio DJ and TV presenter is an influential tastemaker in Britain hosting Radio 1's evening show, which is dedicated to discovering and exposing new music.
He was last here to DJ in 2009 when he played a set in the Boiler Room at the Big Day Out. Before Lowe left to find fame and fortune he was in hip-hop group Urban Disturbance, and following that he teamed up with Hamish Clark (and later Andy Lovegrove) to form Breaks Co-Op who released the hip-hop influenced Roofers in 1997, and laid-back chart-topper The Sound Inside in 2005.
His DJ set on the other hand will be anything but laid-back since he's known for his rowdy and raucous mix of all styles of music.
-TimeOut