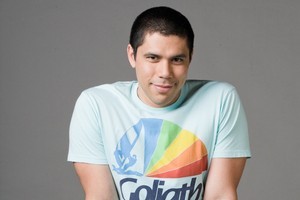 Friday night drinks? Meet me at:
My place. The sun's still out after work so nothing better than a barbie and some beers before the mozzies start attacking.
Where I'll be wearing my new:
Roman sandals. Original Douglas Sandals' roman sandals.
And this weekend I'm planning on:
Catching up with some old high school mates. We won't be talking about chicks though, probably more about which nappies are the best and how to overcome colic. Ace.
But first I'll need to refuel at my favourite cafe:
The Library Cafe in Onehunga. Why aren't there more cafes with jungle gyms?
Saturday evening. If my dreams came true there would be a gig by:
My sister Lorelle. She's a concert pianist and has just moved to Sydney to do her honours. I'd love to hear her play again this weekend if I could.
But if there's nothing else doing I'll probably just:
Watch a film.
On my stereo/headphones right now is:
Jay-Z on the headphones, Suzuki piano method book one on the stereo.
The books I can't put down are:
The one that's stuck to my hand. It's called Building Model Aeroplanes is Easy. Strong glue.
The TV show I take the phone off the hook for:
Dexter.
The movie I've been dying to see:
Once. I've been told I'll love it.
A non-cooking Monday night means takeaways from:
The local fish and chip shop in Laingholm, right by the beach.
Or a splash-out Wednesday night restaurant would be:
The local fish and chip shop in Laingholm, right by the beach (Wednesday is still a school night). Maybe splash out with a Trumpet from the dairy ...
*Kiel McNaughton recently returned from his wife's native Papua New Guinea, where he was initiated into a tribe with his son. A documentary of his experience screens on 20/20 next week.