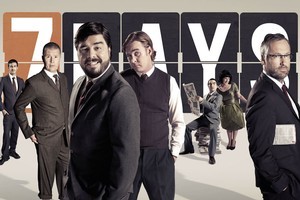 TV3's new drama The Almighty Johnsons is doing its job and pulling viewers. The show, by the makers of Outrageous Fortune, attracted a 29.5 per cent share of TV3's target audience (25-55-year-olds) when it premiered on Monday, February 7, making it the channel's highest-rating show, according to Nielsen Television Audience Measurement.
Comedy panel show 7 Days, which has been running for a year now, took second place, winning a 28.5 per cent share of the same potential audience when it premiered last Friday.
Madeleine Sami's new sketch show, Super City (directed by Taika Waititi), which premiered on Friday, right after 7 Days, attracted a healthy 24 per cent share of the 25-54 age bracket, earning it 11th place on TV3's ratings table.
That put it ahead of new show Hawaii Five-O on Tuesdays, 8.30pm (up against TV2's Go Girls) and new episodes of cult-favourite Friday show Glee.
Meanwhile, Mediaworks' new channel Four has attracted slightly higher audience numbers than C4, which it replaced on February 6. While C4 targeted the 15-39-year-olds, Four is aimed at 18-49-year-olds. It has managed to increase its hold in this new demographic by two percentage points - attracting 5.7 per cent of its target audience, compared to 3.5 per cent four weeks earlier, when it was C4.
And the channel has also slightly increased audience numbers among household shoppers and youth aged 15-39.
Four's highest rating show in launch week was the new America's Next Top Model, which took a 13.7 per cent share of its target demographic.
Kelly Martin, the director of programming at Mediaworks TV says: "We're pleased with what we think has been a solid start to the year across both channels - it's always great when local shows do well, and they have been."
Rival TVNZ has continued to dominate the overall ratings, with perennial favourite shows like TV One's Border Security, Piha Rescue, Criminal Minds and TV2's new The Amazing Race winning the highest overall ratings in launch week. The new season of Desperate Housewives, which premiered this week on TV2 was ranked fifth overall on Monday night, after winning a 40 per cent share of its target demographic of 18-39s. And Marcus Lush's new show North, screening on TV One at was the overall most-watched show on Sunday night.
Meanwhile TV2's Go Girls is proving to be more popular than last year. The third season won 37 per cent of the audience aged 18-39 when it screened on Tuesday last week. Last year the show was rolled out in the middle of the year, screening on Thursdays, and it took 27 per cent of the audience in the same TV2 demographic.
TV2's Off The Map, the new medical drama by the creators of Grey's Anatomy starring Martin Henderson, launched well for a new series with a 29 per cent share of 18-39s, making it the channel's 14th most popular show. No Ordinary Family, a new comedy-drama which, like The Almighty Johnsons is about a family with super powers, won a 38.2 per cent share of its potential audience when it premiered on TV2 last Thursday at 8.30pm.
Head of TV One and TV2, Jeff Latch, says TVNZ continues to deliver the shows that more New Zealanders want to watch.
"We're delighted that New Zealanders have kept their televisions firmly tuned to TV One and TV2 as we launched our new season of shows for 2011 - proving our blend of exciting, dramatic, and above all entertaining content resonates with Kiwis."
- TimeOut