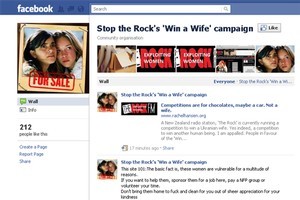 A Facebook group aiming stop a controversial "win a wife" radio competition is asking companies to pull advertising from the station.
The winner of MediaWorks' The Rock promotion will fly to the Ukraine for 12 nights, be given $2000 spending money, and will be able to choose a bride from an agency.
The station says it won't offer the opportunity to just anybody and plans to "weed out the no-hopers and time-wasters" with its application form and various psychological tests.
"If you're interested in holy matrimony with a potentially hot foreign chick, fill it out to the best of your abilities," it says on its website."
The Facebook group "Stop the Rock's 'Win a Wife' campaign", which was set up today, has so far attracted 188 "likes" and is asking its followers to email companies asking them to pull advertising.
The Rock marketing manager Kristy Craig told NZPA today that so far no clients had pulled advertising from the station.
"I know there have been people out there that have been contacting our major clients and asking them to pull advertising, but as of yet our clients have been very supportive," Ms Craig said.
The Facebook page features letters from advertisers, including Harvey Norman and GO Rentals, who distance themselves from the competition but say they will not stop advertising on the station.
It also features an email from Nataliya Poshyvaylo-Towler, chairwoman of the Ukrainian Association of New Zealand, saying "we are in the process of logging an official complaint with radio Rock regarding this shameful promotion stunt".
This comes after former Green MP and social activist Sue Bradford had earlier slammed the contest, saying it should be pulled.
"It is unusual and somewhat disturbing that a commercial entity would commercialise what should be one of the most meaningful human relationships and actually offer it as a prize for a radio show," she told NZPA.
When asked if the contest should be pulled, she said: "Absolutely".
Ms Bradford said The Rock's competition, alcohol ads, and Prime Minister John Key's recent labelling of actress Elizabeth Hurley as "hot", signified a cultural shift in New Zealand.
She add it felt as if there was a zeitgeist around which alcohol, the Prime Minister and The Rock were picking up on.
The promotion began on Monday and ends on February 28.
The winner will choose a woman from the Endless Love Agency, which says on its website it offers "beautiful genuine Ukraine ladies looking for love and marriage with Kiwi men".
The prize does not include travel for the Ukrainian woman to come to New Zealand.
The Rock programme director Brad King told NZPA it had received a "massive reaction" from all over the country.
"Some people think it's a little stupid, others see it as what it is, a tongue-in-cheek idea that gives someone the opportunity of a lifetime to travel on an all expenses paid trip to the Ukraine," he said.
He would not say whether the station had received any complaints.
The Broadcasting Standards Authority said earlier in the week it had not received any complaints about the promotion.
However, a spokeswoman said formal complaints must be lodged in writing with the broadcaster first.
- NZPA, NZ Herald staff