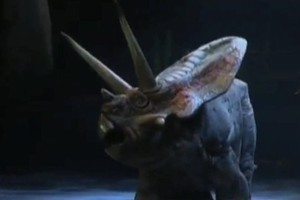 Aucklanders will have the chance to walk with dinosaurs this year, when the award-winning theatrical show comes to Vector Arena in June.
Based on the BBC television series, Walking with Dinosaurs has been seen by around seven million people internationally and has made over $500 million in ticket sales.
The show covers the entire dinosaur history in less than two hours, in an attempt to educate viewers as well as entertain them.
It features 20 life-sized dinosaurs which look, sound and even act like the real thing.
The largest of the dinosaurs, the Brachiosaurus, is 11 metres tall and 22 metres from head to tail.
Bruce Mactaggart, Head of NZ Entertainment & Events Corporation, says the size and scale of the show is "simply unprecedented".
"The Walking with Dinosaurs arena spectacular is, in every sense of the word, the largest show in the world today," Mr Mactaggart said.
"[It's] not just the incredible life-size of the dinosaurs; but the lighting, the sets, the music, make it a once in a lifetime, must see theatrical event."
Mactaggart came up with the original idea for Walking with Dinosaurs 10 years ago.
He wanted people to experience a completely new type of live entertainment for arenas which he calls 'edutainment'.
"If you can have that element that everyone enjoys but also walk away having learnt something, well that's a bonus."
Walking with Dinosaurs has received several awards since its opening in 2007, including the THEA Award for Outstanding Achievement in Touring Event.
Tickets for the show will go on sale to the general public on Friday.