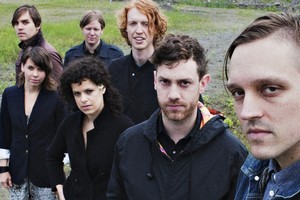 Director Spike Jonze has expanded the music video he made for Arcade Fire's The Suburbs, turning it into a 30-minute short film that will screen at the Berlin International Film Festival.
Scenes From The Suburbs, co-written by Jonze and Arcade Fire members Win and Will Butler, stars a cast of unknowns.
The original music video follows a group of teenagers engaging in various innocent and less-than-innocent activities, while some sort of military action takes place over the suburb's outer fence.
However, the military presence increases over the course of the video, culminating in some sort of event - that is not made entirely clear. Scenes From The Suburbs is said to expand on this.
The Film Festival website gives more details:
A group of suburban youths. Back then, in the summer, so long ago. They couldn't leave town because outside the country was at war and the military controlled life and all gateways.
The teenagers wander aimlessly about town. Winter is a long way off. And love and longing and friendship still mean - everything.
The film is in competition at the festival.
*Cathrin Schaer, a New Zealand journalist and former staff member who is now living in Germany, will be filing regular reports for the nzherald.co.nz, all about the new movies premiering at the Berlinale, one of the biggest film festivals in the world.
The festival runs from February 10-20