Courteney Cox tells Jacqueline Smith that although the man next door has calmed her character's tendencies to prey, changing the series' title proved too difficult - besides, perhaps the future story line will include more cougar-style behaviour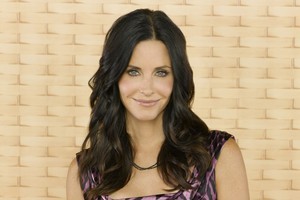 Courteney Cox says she has always been a bit of a cougar. Her husband of 11 years, David Arquette, is seven years her junior after all.
But this season her character on Cougar Town, the newly divorced and liberated Jules, seems to have ditched her pursuit of cougar-bait and is instead settling into a burgeoning relationship with her neighbour, Grayson. He is totally in her age bracket.
This transition is not the only reason the show's executive producers felt the show might need a new title. As season one progressed, Jules' motley bunch of friends in the "cul de sac" formed a tight, dysfunctional family and as Jules' focus switched from dating, the show evolved into more of an ensemble.
Guest appearances by Cox's former Friends co-stars Lisa Kudrow in the first season and Jennifer Aniston in this second season have drummed up publicity for the show, but Cox doubts there will be any more in the near future. Besides the fact that it can be difficult to weave them into the storyline, Matthew Perry, Matt Le Blanc and David Schwimmer are all busy with their own shows.
"You know what we found out? It's not easy to have guest stars, it's just so much easier to keep it in the group because you end up writing stories that don't allow the characters to be part of the world.
"I think they found that with such interesting characters, why go out each week with a guest star that you weren't really going to get to know, when you had all these other characters that you could develop around? I think it's a better thing. Our characters are too interesting to not follow their lives. It was a good decision. But the title ... it's like, it's already out there, so how do we change that?" she says.
Several alternative titles were tossed about, but all seemed to involve the words "family" or "friends", which wasn't entirely appropriate given that the show screens directly after Modern Family in the US, and Cox made her name on Friends. Dan Byrd who plays Jules' son Travis on the show, says his favourite suggestion was Family Jules.
In the end, the executives decided to stick with the brand they had developed.
There may not be any cougar action at the moment, but there are hints that Travis might have his turn at being Jules' younger friend Laurie's (Busy Phillips) cougar-bait later on in the second season.
"You know we've talked about it, and we don't want it to be creepy or weird but you know since the whole idea of Cougar Town - the older lady dating the younger man - has sort of gone out the window, maybe this will be the resurgence of the cougar, maybe I'll just be a very young cougar. He still is only 19 on the show," says Phillips.
Jules' neighbour and now-boyfriend Grayson, played by Josh Hopkins, will get his fair share of airtime this season as the pair's relationship strengthens. Cox says it will be interesting to see how audiences relate to such a seemingly rock-steady partnership, as most television series rely on the humour of dysfunctional couples.
"It's a functioning relationship but with two really non-functioning people in some ways. There's a lot of things to explore - Jules has a kid, Grayson probably wants to have kids - things that won't necessarily keep you on the edge of your seat but that will be dealing with real-life situations. So I think it will stay relevant and fun," she says.
Hopkins says it was a pleasant surprise to read that the relationship would endure. "I thought for sure that we would break up, because I have been watching TV since I was a child and I thought like everyone and that's what happens, but I really appreciate the fact that they are exploring an adult relationship that doesn't break up and get back every time there's a fight," he says.
Phillips chips in: "I'm in a long-term relationship and it's nice to see that reflected on television every so often, rather than 'will they, won't they?' Because after the age of 30, that's just pathetic."
Christa Miller, who plays Jules' best friend and neighbour Ellie, says the show is guaranteed to be funny because it's almost 100 per cent a reflection of the relationships she has with her own friends. Miller is married to Bill Lawrence, the creator of Scrubs, and a co-creator and writer on Cougar Town.
"I'm going to say nothing that I say or do or any of my friends or anything that Courteney does is not in the script the next week. It's funnier than how I've said it, but anything that happens that's amusing or embarrassing, will be in the show. If I say something dumb, Bill will make it really dumb. But it will be in the show."
She says her husband often draws inspiration from Miller's phone conversations with her girlfriends and then recites them in front of cast and crew the next week.
The past year has seen the ups and downs of Cox and Arquette's marriage played out in the media, and that may be why Cox can relate to her Cougar Town character's plight to make the most of the next chapter in her life.
"I think right now in my life I'm trying to figure out what it is I do want to do. I have just found a place where I can stop moving, and figure out what it is that makes me happy, what is it that I haven't done that I want to do.
"I have always moved too much to understand that. I think I'm going to be embarking on that part of my life now."
In saying that, she wouldn't parade around in a T-shirt emblazoned with the show's strap-line, claiming that 40 is the new 20.
"I wouldn't really say that 40s are the new 20s. I would say more like 30s.
"Twenties ... no I don't want that. I'm in my 40s and I would say easily - and not looks-wise, I'm not saying that - but that I feel 32, although my knee is giving out and I do have to have an operation but, I don't know, age is so strange. I don't feel like I'm getting older at all ... and then I do."
LOWDOWN
What: Cougar Town
When and where: Wednesday, 9pm on TV2
-TimeOut