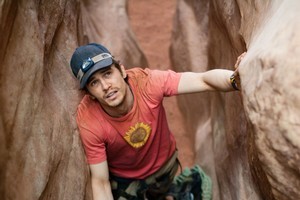 Director Danny Boyle goes from a cast of many with Slumdog Millionaire to pretty much a cast of one, in an intense tale of survival that takes the saying "I'd give my right arm ..." to a new level.
For mountaineer Aron Ralston giving his arm literally meant saving his life after he became trapped in a Utah canyon in 2003. With Ralston's memoir Between a Rock and a Hard Place as a reference, a great performance by James Franco, and an upbeat soundtrack matching the slick editing, Boyle has creating a visually thrilling, insightful and unavoidably squeamish drama.
Ralston spends his weekends filming himself mountain biking and canyoning. On this trip, hours into his journey he accidentally slips into a crevice, closely followed by a boulder that traps his right hand and forearm. No one knows where he is, he only has provisions for the weekend and survival seems unlikely.
Story-wise, there's plenty here. Not only does Boyle take us through Ralston's trek, he also gives us an insight into what drives him.
More chillingly, it's a great account of how he mentally and emotionally deals with 127 hours of hallucinations, dwindling food and water, the realisation he will probably not be rescued, and how he decides to cut his arm off with a small, blunt knife.
The use of a handycam on Ralston's bike adds action and energy to 127 Hours, just as beautiful cinematography of the Utah Mountains adds to the hopelessness of Ralston's situation. The challenge for Boyle though is to make one guy stuck in a canyon visually interesting and engaging, and this is where Franco and some clever camera angles come in. Capturing Ralston's optimism, his sense of fun and love of life, Franco is charming and engaging as the independent, slightly goofy adventurer. His performance ranges from cheery and playful to emotional and unnerving, and with the help of well-shot flashbacks and hallucinations to pass the time, it's easy spending five days with him.
Of course all this leads up to the excruciating moment when Ralston realises the only way out is without his arm. It's nauseating, drawn-out, and accompanied by horrific sound effects; but Boyle has created what will no doubt be one of the most talked about film scenes this year. 127 Hours is a remarkable story and well worth watching - even if you miss the lesson on DIY amputation.
LOWDOWN
Stars: 4/5
Cast: James Franco
Director: Danny Boyle
Running Time: 94 mins
Rating: RP 16 (Content may disturb)
Verdict: A gruesome but remarkable story well told
-TimeOut